Does organic matter?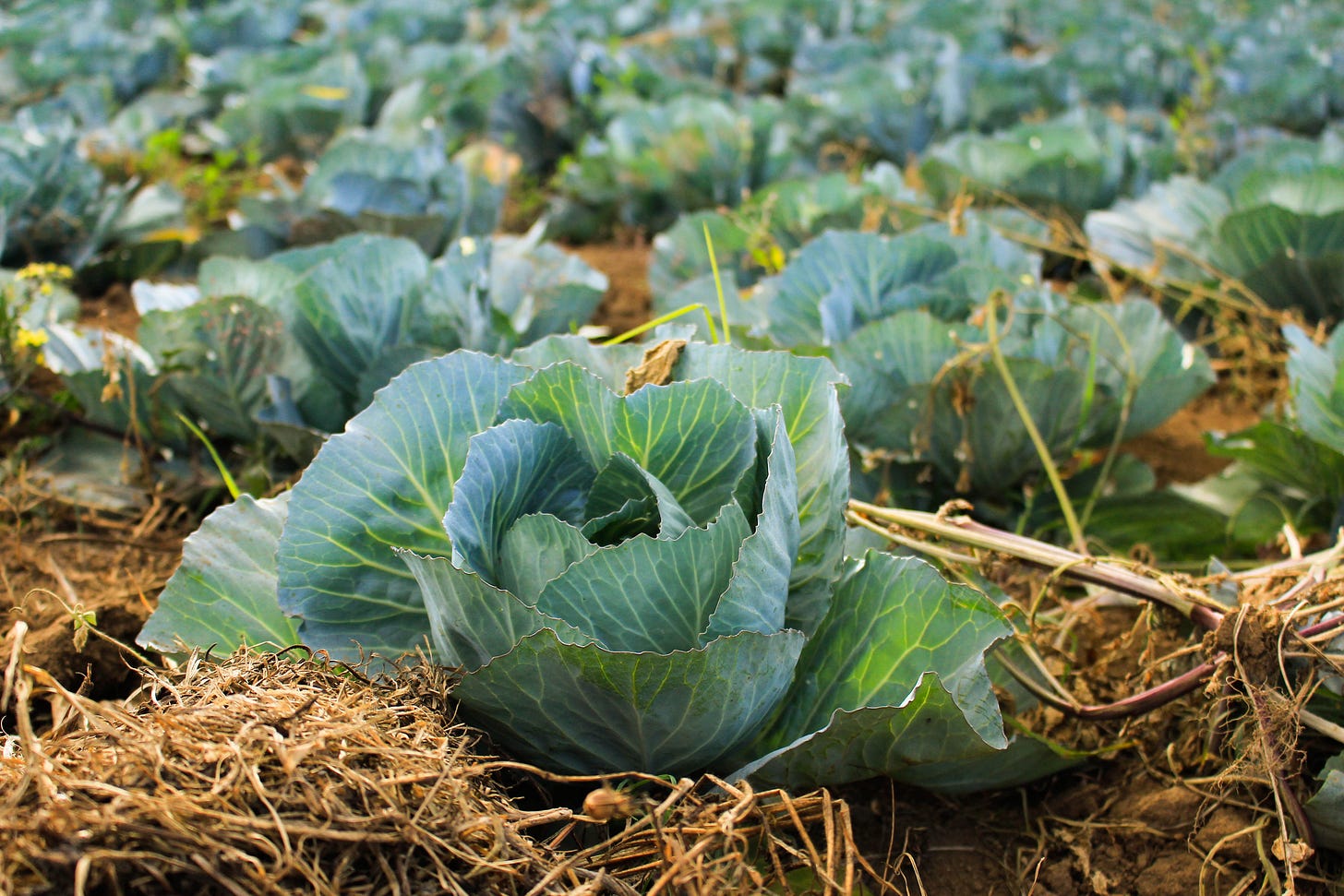 It seems almost inconceivable now that there was a time when the word organic wasn't splashed across everything from kelp granules to kumquats, douches to dog shampoo. Before Whole Foods was an empire, when organic was mostly for communes, co-ops, or any other place where Birkenstocked people wore billowy linen long before the surf moms of Instagram got a hold of it.
Organic acreage has been increasing since the 1990s, and organic food really broke through in supermarkets around the year 2000. This chart from the U.S. department of agriculture shows sales more than doubling between 2005 and 2015.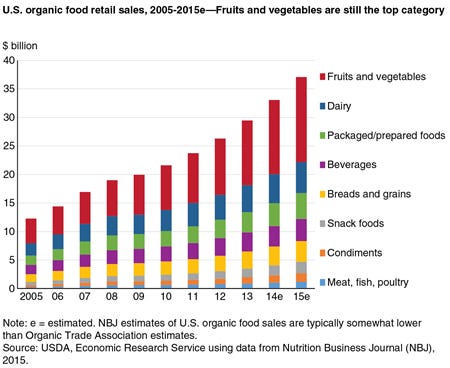 In around a decade, organic foods moved from being the province of those who brewed their own kombucha to those who paid for it in an artisanal cocktail. In that time, "organic" took on a moral sheen, especially when it came to feeding children, and premium pricing made it only accessible to some. But is organic food actually healthier for you? Is it healthier for the world? Let's dig in.
Is organic food healthier?
There are a couple of ways people equate organics with health. One is a perceived lack of fertilizer, pesticide, and herbicide residue. Let's be clear: both conventional farmers and organic farmers use external inputs, though organic farmers are highly regulated in what they can use. (That said, pyrethrin, which is derived from the chrysanthemum flower, is on the safe list for organic growers, and has low toxicity for humans but can be highly toxic to fish and honeybees. Something that is "natural" is not necessarily harmless, and all inputs need to be used carefully.) In any case, when it comes to what we eat, both conventional and organic routinely come in below acceptable residue levels. (Keep in mind, though, that workers who do any spraying are exposed to much higher levels.)
If you're worried about pesticide residue, wash your produce well, and maybe go the extra mile: a study from the University of Massachusetts, Amherst found that soaking apples in a solution of six cups of water and one tablespoon of baking soda for 15 minutes removed two types of pesticides more effectively than water or bleach and water.
Organics are also sometimes touted as having higher levels of antioxidants or other beneficial nutrients. How this may translate to human health is so far unknown, and studies are inconclusive. But there is scientifically backed good news: if you want to be healthier, all you need to do is eat more fruits and vegetables, period.
Is organic farming better for the environment?
Organic farming is more than using different chemicals. It should also involve practices like cover cropping, crop rotation, composting, mulching, and avoiding tilling (which damages soil structure and releases carbon into the air). These are all part of what is broadly known as regenerative or conservation agriculture. The deep end of regenerative agriculture is permaculture, which involves working with the natural landscape and focusing mostly on perennial crops. Permaculture doesn't just maintain the soil, it looks for ways to improve it and the environment as a whole. (To learn about permaculture, I'd recommend The Biggest Little Farm [Netflix] or Inhabit [free online], both of which I loved.)
According to Drawdown, adopting regenerative practices for annual plants could sequester 14.5-22.3 gigatons of CO2 by 2050, and permaculture could sequester another 9.4-13.4 gigatons. Putting that carbon in the soil instead of the air not only helps slow the climate crisis, but makes for healthier, more productive soil.
Responsible organic agriculture can also:
encourage biodiversity, both in the crops themselves (preventing dangerous monocultures, which make for a fragile food system) and in the wild species that can return and thrive as the ecosystem rebalances. (A 2019 analysis in Biological Conservation found 40% of insects are declining and 1/3 are endangered. If we continue to lose 2.5% of insect biomass per year, we're headed for a "catastrophic collapse of nature's ecosystems.")

limit fertilizer runoff in our waterways, which not only pollutes the water but causes algae blooms that suck the oxygen from the water and create aquatic "dead zones." (But remember, organic pesticides can kill fish too — responsible use is vital.)

conserve water, which means avoiding depleting non-renewable groundwater stocks. Healthier soil with more organic content will hold water better and resist erosion.

fight soil degradation and depletion, meaning new agricultural land isn't required (and new land often = deforestation).
Of course organic certifications are also very expensive and take a long time to achieve, so there may be farms that are incredibly sustainable but not officially certified. Some farmers may also use a lot of regenerative practices and use synthetic chemicals sparingly — a hybrid approach that might be an important part of the future of food. If you want to know more, ask a farmer what kinds of sustainable practices they use. And if you're buying packaged products, look for the Canada Organic or USDA Organic seals.

Can organic farming feed the world?
Ah, the 10-billion-person question that we'll have to face by 2050. Before we get into it, it's worth noting that we're currently producing enough food to feed the world — it's just unequally distributed and a lot of it is wasted. Also, a key factor in this prediction is what the world is eating. In general it takes a lot less land to feed people with plants than to feed animals so we can feed people.
In industrial countries, a switch to organic agriculture may mean a drop in productivity of up to 30%. However, in the case of subsistence farming, organic agriculture may increase yields and allows subsistence farmers to grow food without having to buy expensive (and often exploitative) inputs. Studies have also found that organic agriculture is more resilient, especially under drought conditions (which, thanks to the climate crisis, are on the weather report regularly for the foreseeable future).
So as it is right now, a switch to all organic agriculture might not feed everyone. Except . . . right now we're not feeding everyone either. Not to mention under climate change conventional agriculture is going to get less effective and probably more damaging. If we want a healthier planet and to keep everyone fed, regenerative agriculture will definitely be part of the mix. So will eating less meat (which has its own climate benefits), empowering small food producers (especially women, who grow 60 to 80% of the food in poorer countries, despite having a fraction of the resources given to men), reducing food waste, using fertilizer and irrigation more carefully, embracing permaculture, and protecting Indigenous land rights. Organic farming can't single-handedly feed us under climate change. But hopefully it won't need to.
---
So, knowing all this, what to do? I buy organic whenever it doesn't send me into a sticker shock swoon (when things start being 30% more, I need to breathe into my reusable bag). I fork over my hard-earned cash mostly because I want to support more sustainable systems and farmers who are also caretakers to the planet. (Also, I swear the carrots taste better.) I garden organically, because I believe in supporting a complete ecosystem, and because pesticide-protective gear isn't the garden lewk I'm going for. I wash most produce halfheartedly, regardless of its provenance.
Of course, organic produce alone will run up your grocery bill but, following from last week's newsletter, if we properly account for externalities, responsible agriculture should actually save governments money. (If you haven't hung out on the brilliant and inspiring Drawdown website, they always include implementation cost and net cost/savings over time.) In the long run and the big picture, doing the right thing doesn't always cost more! (The sweetest words you could utter to a morally mired cheapskate like me.)
---
TL;DR
Organic foods aren't free of chemical inputs, though which chemicals they can use are carefully regulated. Residues for both are under safe exposure levels.

Eating organic hasn't been proven to be healthier; eating more fruit and veg (conventional or organic) has. So let's get our chard on, à la Pawnee farmers' market.

Organic farming with regenerative practices can sequester carbon, reduce water use and fertilizer runoff, support biodiversity, and fight soil degradation.

In industrialized countries, going organic usually means lower yields. However, in areas with rain-fed subsistence farming, it may improve yields.
---
Wins of the Week
"Things are not possible until they are possible." — Dr. Eric Thomas, elder care advocate
Here's some great things the green gang is up to:
Megan used a k-cup cutter to open her office's coffee pods, compost the grounds, and turn the containers into seed-starting pods!

Steph put up a clothesline!

I gave away a mess of seedlings, seeds, and four Victory Garden kits. (Next to distribute: pollinator-friendly seed kits!)
And let's take a moment to acknowledge a huge historical win: tomorrow's the 50th anniversary of Earth Day, a major milestone in environmental history that brought 20 million Americans into the street (almost 1/10th of the population!) and led to landmark legislation in the U.S. like the Clean Air Act and the Clean Water Act. (I cheered this piece out of Yale that stresses that while Trump rails about these restrictions being an enemy to jobs and the economy, they've actually created jobs and saved money and, you know, lives.) Happy Earth Day, fellow greenies — may we use this anniversary to remember past victories and work towards new ones.
xo
Jen