Recycle like somebody's watching
(Me)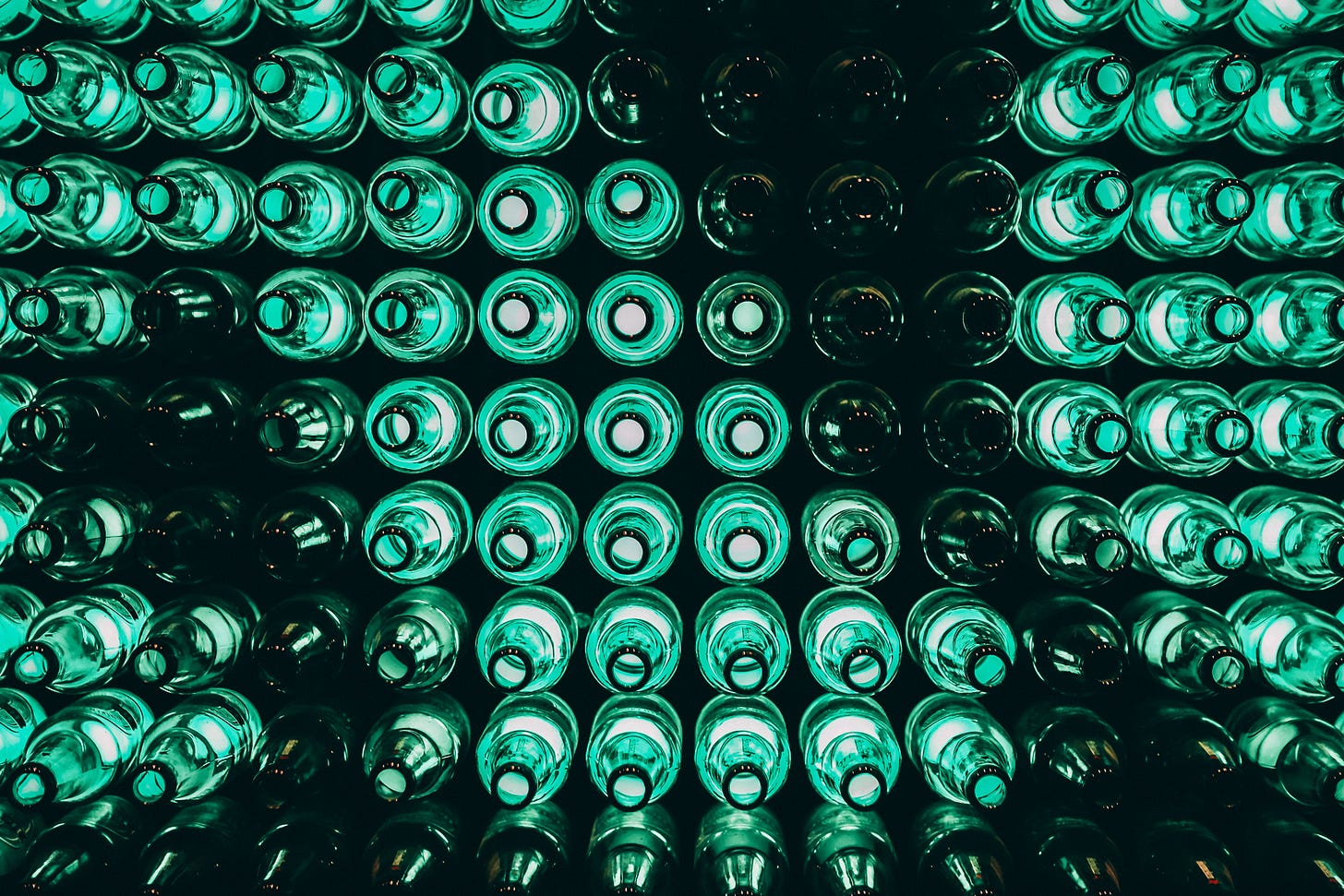 I have a bit of a rep in my workplace. On a good day, I might be called a recycling enthusiast, and on a bad day, well . . . you can use your imagination. Because, listen, if you require a single serving yogurt container, I require it go into the appropriate bin.
Recycling is, after all, the very least we can do. It can be a good way to leave resources in the ground and keep garbage out of it. Of course recycling requires money and energy and creates emissions, with certain products — especially aluminium and steel — we can still come out ahead. For example, recycling aluminium uses 95% less energy than making it new. The geniuses at Project Drawdown calculate that household recycling could prevent 2.77 gigatons of CO2 from entering the atmosphere, with net operations savings of $71.13 billion.
But it's also important to remember: recycling is not magic. It has some serious limitations. Especially if we're talking about plastic. Only 9% of the 8.3 billion metric tons (that's 80 million blue whales) we've ever made has been recycled, and 6.3 billion tons are still very much with us — in landfills, ecosystems, and in the bellies of said blue whales. (And if you think those numbers are bogged down by past decades, nope: in Canada we're currently only batting about 11% diversion.)
So let's look at some of the reasons recycling is decidedly unmagical.
For some materials, such as most plastics and some glass, recycling is downcycling: you'll get a lower-quality material after processing it. The exception in plastics is PET (water bottles, clamshells, etc., marked with a #1 inside the recycling arrows), which can be made into new bottles, though usually isn't, because it's still more expensive. If even the best plastic, PET, isn't always recycled, a plastic shopping bag's prospects are grim. Of the seven categories of plastics stamped as recyclable, only two routinely get recycled.

Recycling, like almost everything else under capitalism, is a commodity business. Municipalities need to sell their materials in order for them to actually get recycled. And ever since 2018, when China slashed its purchases of our scrap crap (and others like Malaysia, India, and Thailand followed suit), the market for lower-value recyclables, such as plastic, has crashed. Some municipalities continue to collect items that are potentially recyclable so that people don't get confused, but those items are often headed to the landfill or for incineration.

Even when we're able to sell our recycling, it could still get incinerated or landfilled, both of which are done at home and overseas, as you can see from this Marketplace investigation. In China, burning plastic regularly released dioxins and other toxins and turned former farmland into post-apocalyptic dead zones. Disposal is even more likely if there's a lot of contamination in the load. (More on contamination later.)

It deters us from pursuing better solutions (e.g., reusables, closed-loop production), because everyone's working under a shiny, happy recycling illusion.
How we recycle responsibly and try to keep some of that sexy recycling magic alive?
Reduce and reuse first
Remember the three Rs are a hierarchy. This great New York Times video implores people to "buy as if nothing gets recycled," which is the kind of thing I'd spray-paint all over town if I wasn't such a square. Pay attention to what's in your bin and consider whether you can avoid packaging by buying in bulk, making something yourself, or simply living without. With bulk sections bulking up and plastic-free grocers appearing in urban centres, this is a little easier than it used to be. If you have the packaging already, ask yourself if it can have a second life BEFORE recycling. Things like glass jars, plastic spray bottles, and plastic takeout containers have great reuse potential.
Know the rules.
Recycling might not be magic, but the Waste Wizard feels that way: for Torontonians this amazing app/site tells you exactly where to put chopsticks (garbage), black plastic or black styrofoam (garbage), a CD jewel case (recycling), a greasy pizza box (compost), or unfixable DVD player (electronics recycling). Check your municipality for recycling guidelines and follow them.
Know that if you botch your sorting, you may be dooming the whole lot to landfill. My friend L wrote to say that in university she talked to the custodial staff and found out if more than 10% of the paper bin was non-paper, they just pitched the whole thing.
If you're already a walking Waste Wizard, consider how you can help people in your workplace, church, etc., sort effectively. Maybe you do a casual waste audit and send around the results. Maybe you post some new signs near the trash bin. Most people want to recycle right, they just need guidance.
Clean your recyclables.
If your greasy peanut butter jar mingles with a bunch of newspaper, guess what happens? Not only is that PB jar landfill bound, so is the paper it made greasy. Sometimes the entire lot. Contamination with food or non-recyclables is a major issue in single-stream recycling (where you're not required to sort), and it's part of the reason China stopped accepting our recyclables. Contamination rates are a shocking 26% in Toronto (the highest in Canada), and according to the CBC, for every 1% reduction in contamination, the city could save $600,000 to $1 million annually. (To make matters worse, our recycling contract stipulates if we hit 27%, we get fined an additional $5 million.) Lazy person's recycling tip: throw glass jars in with a dishwasher load.
Don't wishcycle.
It's not as fun as it sounds, and it's really common. We think, Surely, this plastic package must be recyclable, because the prospect of it living in a landfill for a millennium or so is too horrifying. But putting inappropriate things into the recycling bin raises contamination rates and slows the process. In the case of things like textiles, it can also damage the machines, setting the whole operation back. If you're uncomfortable that your trash has to be trashed, use that as motivation to buy a greener option in the future.
Write retailers and manufacturers.
Let them know you want less wasteful packaging. A couple years ago I wrote emails to the major supermarkets, asking them to remove black styrofoam from their meat products (an easy swap, imho), and now black styro is a thing of the past in the Loblaws meat section. Okay, it probably wasn't all me, but consumer comments matter. Trader Joe's has pledged to cut its plastic, and in the UK the major chains have set various goals, like cutting hard-to-recycle packaging and introducing bulk sections, and their progress is being audited by Greenpeace.
Advocate for extended producer responsibility.
"People started pollution, people can stop it," said commercials featuring polluted roadsides at the dawn of modern recycling in the 1970s. Guess who sponsored those commercials? The corporations making and selling the plastic, executing some tidy victim-blaming and responsibility sleight of hand that continues today. Those companies get rich, and we're the ones who literally have to clean up the mess. But we're catching on and extended producer responsibility is taking off. In British Columbia, for example, manufacturers are responsible for 100% of recycling costs and, shocking no one, the amount of plastic in Vancouver's waste stream has gone down. In Ontario, producers only pay for 50%. According to former environment minister Rod Phillips, we're planning to follow B.C., you could always drop current minister Jeff Yurek a note to find out when. (Email minister.mecp@ontario.ca. I just did. It took five minutes, and all the key facts you need are in this newsletter.)
---
For the busiest people, TL;DR
---
Learn more and level up
Read
Listen
Watch
---
Thanks as always for reading and sharing and, I'm sure, sorting your recyclables impeccably. Until next week!