Seafood that's less fishy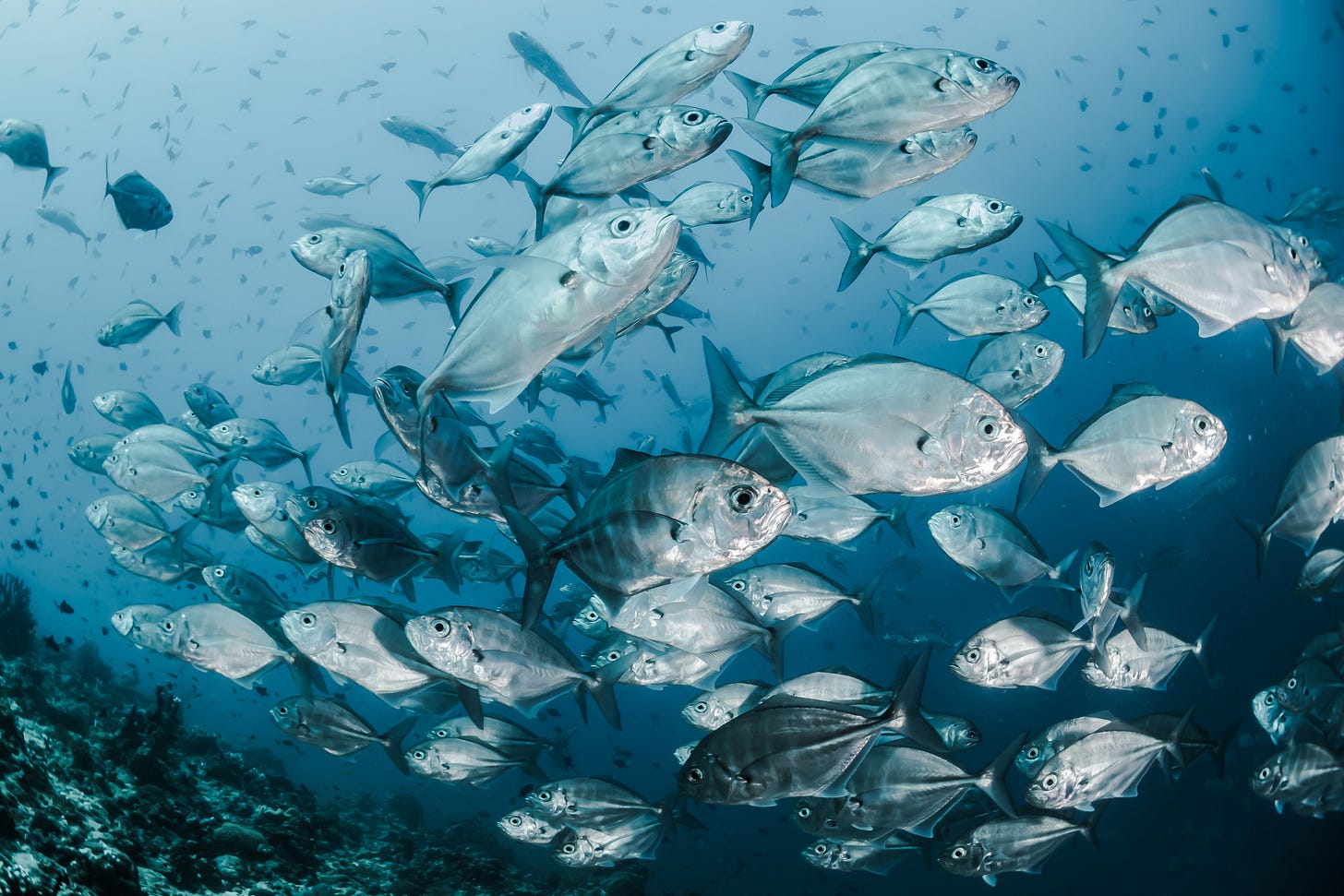 If you've ever waded into the waters of sustainable seafood, you may have quickly sought dry land, because ooooh boy, that water is murky. But never fear, my friends, because I love nothing more than a good swim.
First, let's situate fish within the big picture of our food choices, thanks to one of my favourite charts!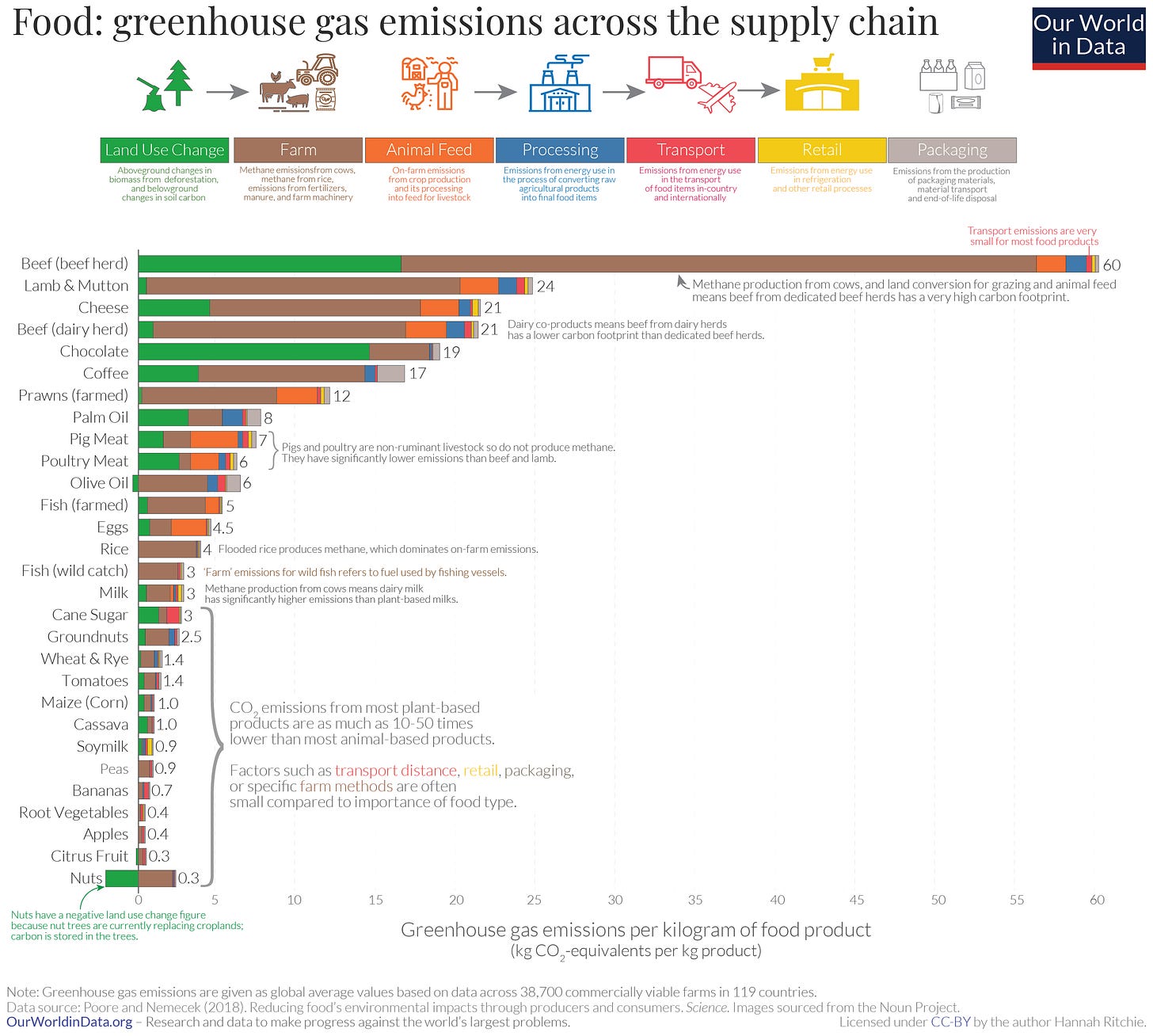 So based on this chart alone, we might conclude that shrimp are the beef of the sea, wild-caught fish are a better choice than farmed fish, and that all fish are a better choice than poultry, pork, or beef.
But alas, that's not the full picture.
Yes, wild-caught fish can be good, but:
more than 30% of wild fish stocks are on the verge of collapse, and with ocean temperatures rising, it's going to be harder than ever for many to thrive.

bycatch (fish and other marine creatures unintentionally caught during fishing) are often killed and discarded.

according to a report by Greenpeace, "ghost gear" (discarded nets, lines, pots, etc.) accounts for 10% of plastic pollution in the ocean, and this large plastic can do devastating damage: in one incident in 2018, 300 sea turtles were found dead in netting in Mexican waters.
Sooooo, should we be eating farmed fish then? Well, aquaculture has its own set of problems, namely:
jailbreak fish: if farmed fish escape from in-ocean "open" pens, they can mingle with wild stock, reducing diversity and resilience, and compete with wild stock for food. And if they don't escape, their parasites (such as sea lice) can, which also harm natural populations. (And if the fishery is using sea lice pesticides, those chemicals can harm other species.)

poorly managed fish farms can release huge quantities of methane.

antibiotics, pesticides, and other inputs seep into the surrounding water.

natural shoreline habitat is often destroyed for aquaculture, devastating local ecosystems and disrupting feeding grounds for wild species.

aquaculture is freshwater intensive: more water is needed to grow a kilogram of fish than a kilogram of cow.
Okay, before you swear off fish forever, know that there are methods that reduce environmental impacts. For example, if farmed fish are raised in land-locked pens, none can escape (or at least get far), parasites won't hitchhike out, and inputs can be better managed. Which is great news, because just over half of fish eaten worldwide is currently farmed and that will only increase with time. Fishing wild stocks can also be improved with stricter bycatch policies and reducing take when a population is declining.
Now let's take a peek at some of the strategies you can use to have your fish and save it too.
Sort the goodies from the baddies.
First, the losers. As we saw at the outset, farmed shrimp is worse for the environment than pork or chicken, and that's mostly because carbon-storing mangrove forests are being destroyed for shrimp farms. The industry has also been associated with human trafficking and human rights abuses. Skip the sketchy half-frozen (or worse: room temp!) shrimp ring at your next event and consider taking it off your regular menu.
The clear winners on the other hand? Shellfish (think: oysters, clams, mussels, scallops). They actually improve the water quality and don't need artificial inputs. Other small fish, like wild-caught sardines and anchovies, are also a really good choice.
Now for the in-between, take a look at a seafood guide for your region. Seafood Watch has one for every state (though not for Canada). But if I look at the one from New York, among the more common fish to get the green light are bass (U.S. hooked and farmed), catfish (U.S.), swordfish, tilapia (Canada), trout (U.S. farmed), and a couple kinds of tuna.
Buy certified seafood.
There are a few seafood certification programs out there. They're not perfect, but they support some sustainable practices, so pick fish with a seal from the Aquaculture Stewardship Council (ASC), Marine Stewardship Council (MSC), Ocean Wise, or Seafood Watch.
You can also use this nifty Seafood Progress tool to see how your grocery retailer ranks: for example, you'll see that all fish sold at Loblaws must be MSC- or ASC-certified, and that Metro reports where all its fish come from and guarantees sustainability on its own brand of fresh salmon and shrimp and canned tuna. (These two chains are by far the most sustainable Canadian majors on this front.) You can also talk to your local fishmonger, or shop somewhere where eco-friendly fish are their raison-d'être, like Hooked in Toronto.
All of this can come at a bit of a premium, so if your budget is tight, shop the last-day marked down fish and call it a win: food waste is the worst outcome at all.
Bring traceability to Canada's fish.
Currently the seafood we eat is labelled by where it's processed, not where it's caught/farmed, which is about as useful and precise as the "here be dragons" sections on old maps. Without tracking and labelling, consumers can't make educated choices. To support boat-to-plate traceability and improved labelling, you can email the government via the David Suzuki Foundation.
Support marine sanctuaries and regulatory protection.
If we want to protect our wild fish stocks and our oceans, marine sanctuaries are essential — one study found 670% more fish in them, compared to unprotected waters. The United Nations is pushing governments to make 10% of the ocean protected sanctuaries (whereas right now we're sitting at 2.5% globally, and 6% in Canada). Yet on June 5, Trump opened up the Northeast Canyons and Seamounts Marine National Monument to commercial fishing — a classic myopic move. As Laura Trethewey wrote in her recent op-ed, "Gutting the few marine protections that do exist serves no one, fishermen included."
---
TL;DR
Eat less shrimp, more shellfish and small, oily fish.

Choose fish with some sustainable certification; Loblaws and Metro stock pretty good choices.

Support seafood traceability.

We need more marine sanctuaries if fish stocks are going to stand a chance of recovery.
---
Wins of the Week
"Historically, pandemics have forced humans to break with the past and imagine their world anew. This one is no different. It is a portal, a gateway between one world and the next. We can choose to walk through it, dragging the carcasses of our prejudice and hatred, our avarice, our data banks and dead ideas, our dead rivers and smoky skies behind us. Or we can walk through lightly, with little luggage, ready to imagine another world. And ready to fight for it." — Arundhati Roy in the Financial Times
This week, hurrah and hurray for:
Erin and her ex, who are resolved to furnish their daughter's first apartment solely with things they have between their homes. (Personally, I still have all kinds of hand-me-down housewares from my parents and grandparents and am still glad to have them.)

Lyn, whose new baby has only one brand new outfit and is starting on (used!) cloth diapers shortly. And her older child, she writes, "has been outfitted with shoes, raincoats, rainsuits, books, and puzzles during isolation times alone." (COVID isn't raining on her secondhand parade!)

All those who are giving Ecosia a spin, including Lyn, Jordan, & my dad!
Writing this newsletter is my sixth workday every week (no joke: each one takes between four and nine hours to write and research), so when you guys write me with actions you're taking, you make me feel like the Fab 5 watching their latest charge at the end of the episode: proud, excited, and maybe a little tipsy. Bottom of my heart thanks to you all.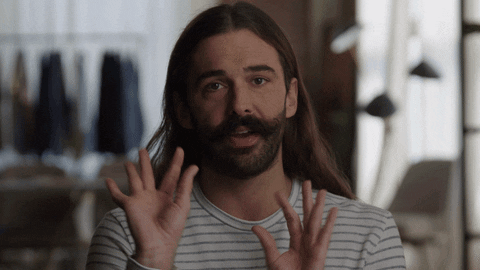 xo
Jen