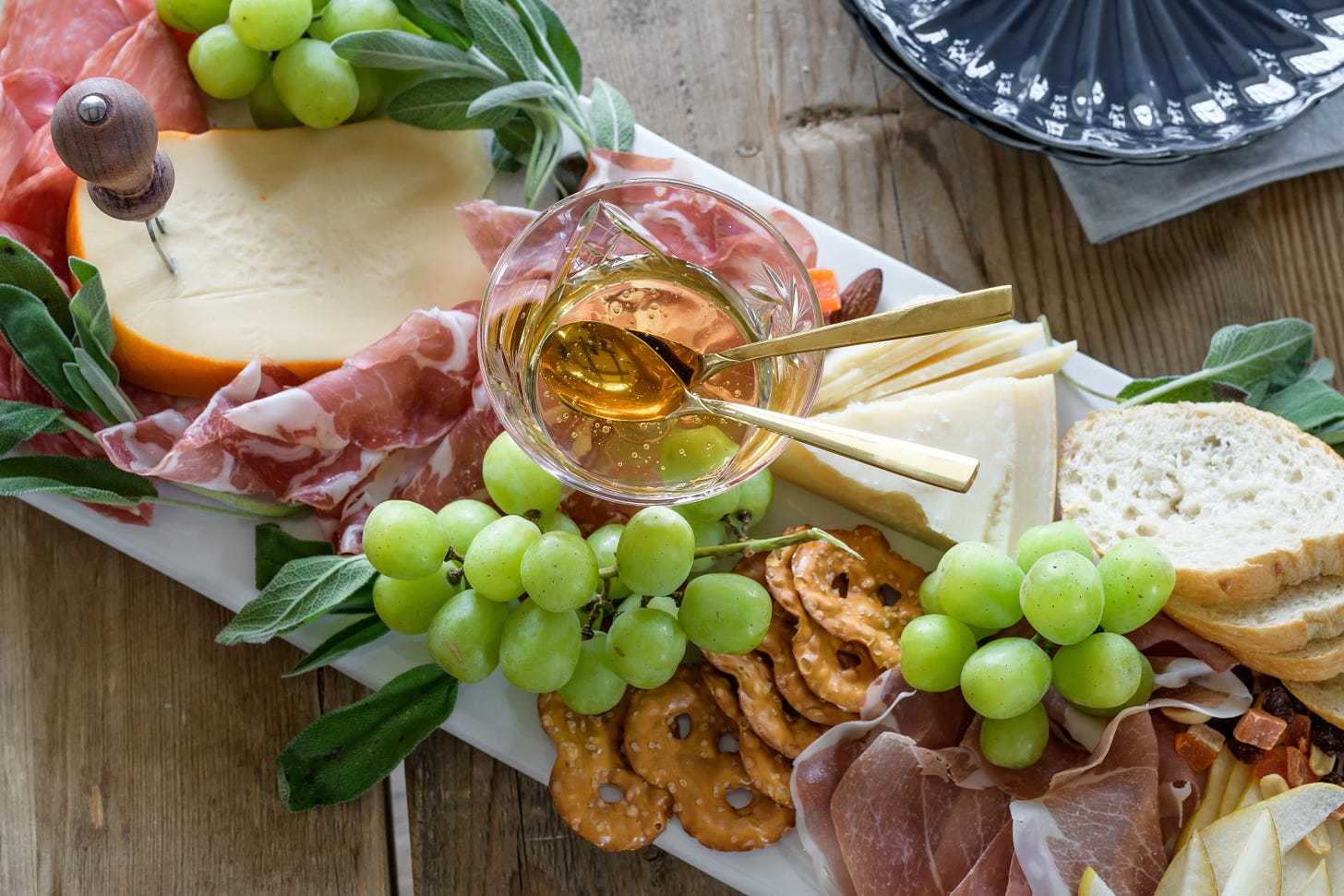 My friend recently announced his attention to switch to a plant-based diet, with one exception . . . cheese. And I both applaud the intention and understand the exception, because how can a bunch of old milk taste so good?
We're not alone in our love of all things cheesy: Americans eat an average of 33 pounds of cheese a year, triple the amount they ate in 1970. We live in a triple-cheese-pizza world.
This gets to be a problem because it takes a LOT of milk to make cheese — ten pounds of milk to make one pound of hard cheese, on average. That means a lot of animals, usually cows, who need a lot of land, water, and feed to raise, plus they burp and fart methane, a greenhouse gas up to 28x as powerful as CO2. The dairy industry is working on carbon-cutting strategies, such as adjusting cows' diets and installing methane digesters, but unless they remove the cow from the equation, cheese is still likely to be a carbon heavyweight. How heavy? Why, look, it's my favourite chart again! (Click to enlarge.)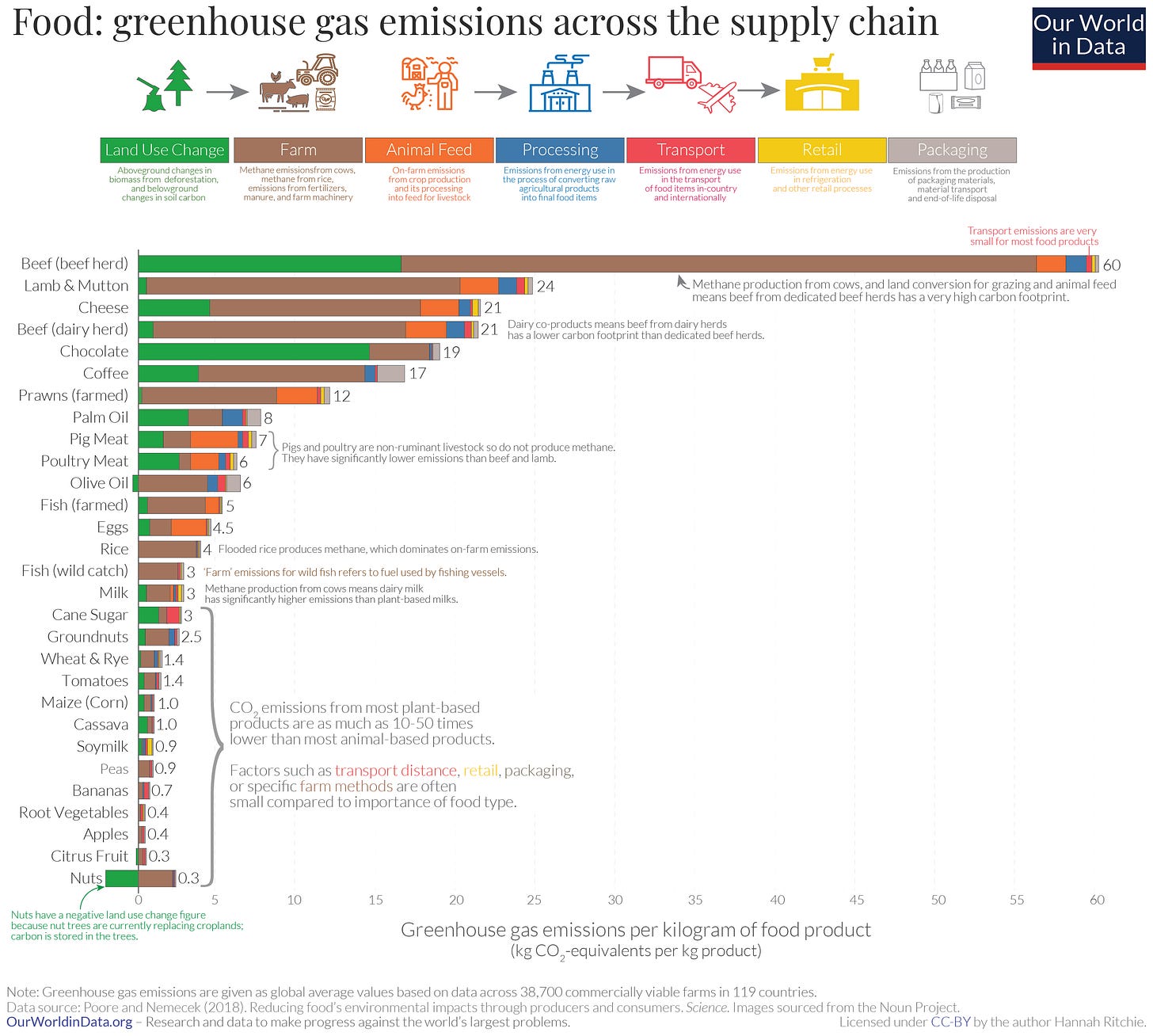 A caveat with this chart: you'll see it measures by kilogram of food product. And while you could use a kilogram of chicken preparing a meal, you'd be unlikely to use a kilogram of cheese. (And if you did, would it be . . . unbelievable?) Put it this way: the biggest carbon cost in a cheeseburger isn't the cheese. So if you're using a small amount of cheese to add a little goodness to an otherwise meat-free meal, that still counts as a win.
But I've had a couple FMFP readers reach out and ask me to boldly venture into the cheese cave to see if I can find some ways to make indulging a little gentler on the planet. The biggest way is, of course, to eat less of it, but if you don't want to give up working on your night cheese, let's look at how to do it more conscientiously.
Softer cheese > harder cheese
Lovers of brie, rejoice! Soft cheeses require less milk, which means they have a lower climate impact. They also don't have to be aged, which involves storage at a climate-controlled temperature for months or even years. Dairy researcher Steve Zeng named feta the most climate-friendly cheese, but goat cheese, brie, camembert, and even mozzarella get a pass.
Is one animal really baaaaaaad?
Does it matter what kind of animal made the milk? Not really. Cows need the most feed and make the most methane, but they also produce a lot more milk than sheep or goats. Sheep may be even gassier than cows for the amount of milk they produce, though, this Slate article notes amusingly, "some sheep are less gassy than others." Sheep, just like us.
Support a local producer.
A local producer doesn't automatically have a smaller footprint, but they may manage animals more responsibly and humanely. You'll also do some good by supporting a local business. My favourite local cheese is Montforte Dairy's Waltzing Matilda.
Try a vegan cheese replacement.
I'll admit, I haven't. But they exist, whether it's an everyday replacement like Daiya (available at most grocery stores) or some fancy artisanal cashew cheese that certainly wouldn't look out of place on a rustic wood plank. One trick I do use is integrating nutritional yeast into some recipes, like one of my top salad dressings, for a dash of cheesy flavour (and bonus B vitamins).
Store it properly.
Now that we know how precious cheese is, don't let it go to waste! I've been known to cut off mouldly parts of a hard cheese and carry on eating it, and the Mayo Clinic backs this strategy if you cut away one inch around the mould. (Mouldy soft cheese is widely considered a no-no.) Ideally store it in a designated cheese drawer in your fridge, but certainly don't store it in the door, as I used to. Storing it in plastic isn't great — ideally rewrap in parchment (which you can reuse) or store it in a jar like FMFP reader Diane.
And as a bonus, I consider any cheese marked to clear, in store or on a site like Flashfood, to be a carbon freebie: food waste is a major climate villain, so you're taking one for the team.
---
TL;DR
Cheese takes a significant toll on the environment, and the best way to reduce that impact is to eat less of it.

Soft, unaged cheese uses fewer resources than hard, aged cheese.

What animal made the milk doesn't really matter, though sheep milk may be the worst.

Store your cheese properly, in a cold part of the fridge, ideally wrapped in parchment or beeswax wrap instead of plastic.
---
Wins of the Week
This week's quote from a newsletter not about environment, but about physical fitness. Twist! Here, they're talking how small, consistent good choices in the present can have big payoffs in the future. (This is my incredibly dull M.O.) On a policy level, we need dramatic action, but on a personal level, for the day-to-day stuff we often deal with in this newsletter, I think it's a useful perspective:
"The rule of compounding gains says that it is important to resist skipping small good habits or engaging in small bad ones. It's not just about the benefits or losses you experience on that particular day, it's about the compounding benefits or losses. Equally important, resist the urge to put forth heroic efforts. . . . Don't think about being consistently great. It's a trap. It's impossible. Think about being great at being consistent."
This week, shout out to some people who are racking up compounding wins:
Sam moved all her investments to the ethically responsible portfolio!

Liana picks up bushels of "too ripe" tomatoes from her local greengrocer and turns them into delicious sauce!

Jessica has been living sans plastic wrap for a while! (Further proof it's unnecessary.)
Please hit me up with the good things you're doing that are paying dividends. The first rule of Climate Club is that you absolutely talk about Climate Club! And as always, this club is thrilled to have new members, so if you read something good here, please do share it.
xo
Jen
---
Five Minutes for Planet is written by me, Jen Knoch, and edited by the incredible Crissy Calhoun. Opening photo by Theme Photos on Unsplash.