So you want to declutter
Pass it, don't trash it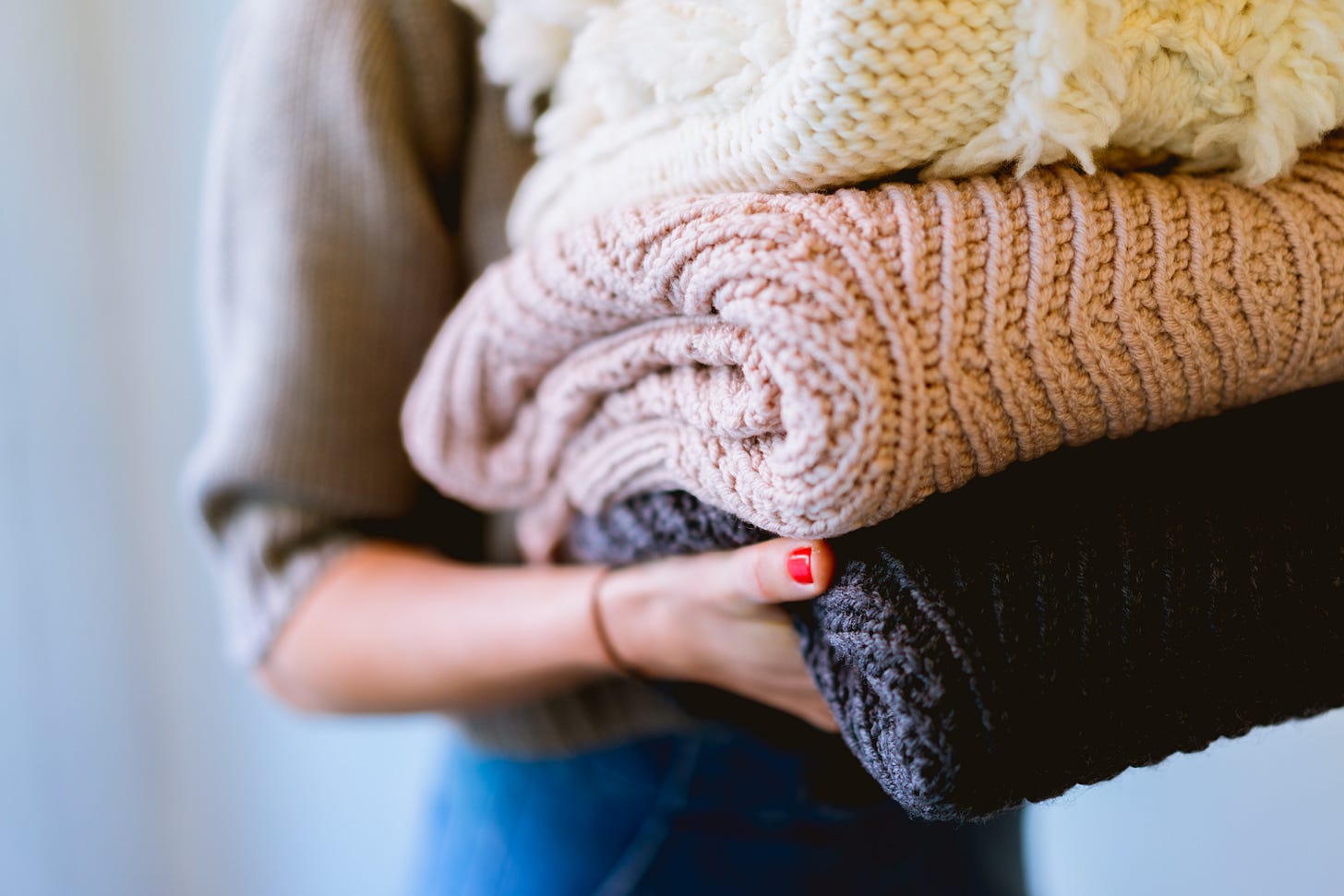 Over three months into quarantine, as we start to feel like pacing zoo animals in too-small enclosures, many of us feel pretty sick of the scenery, and the urge to purge can get pretty strong. But with your regrettable mug or jumpsuit potentially crawling with COVID and a lot of the usual donation avenues closed, getting rid of things is a little more complicated than it used to be. Rehoming things is slower, and needs a little more caution and care — but is that a bad thing?
In Ontario, thrift stores are reopening, and it may be tempting to toss all the stuff you've piled in the back of your closet into your trunk and dump it at the nearest store or donation bin. But pause: some thrift stores have seen almost twice as many donations as normal during the pandemic, and they're already swimming in unwanted stuff. Fewer people are going to be able to shop and retrieve them. Even in regular times, the thrift store should be your last stop and not your first, because a max of 1/3 of that stuff is ever sold.
What happens to the rest? It goes to landfill, or, in the case of clothing, it's turned into scraps or packaged into huge bales and shipped overseas — Ghana, Kenya, Pakistan, and India see the most. There, some clothes may get a second life but severely undermine local textile business and increase dependency on the west. Plus, these countries are stuck dealing with the leftovers — we've essentially exported trash, which must be burned or landfilled. An alliance of East African countries (Tanzania, Burundi, Kenya, Rwanda, South Sudan, and Uganda) announced their intention to ban imported clothes in 2015, but facing steep trade tariffs pressure from the U.S., Kenya withdrew from the alliance.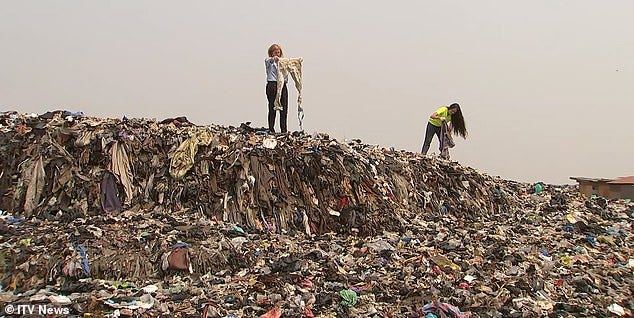 A rotting mountain of unwanted clothing in Ghana.
As everything from our clothing to our electronics gets cheaper, something's chances at a second life are going to be even lower. A lot of thrift stores don't even take fast fashion, because the quality is too shoddy and the margin isn't there: why pay $5 for a used H&M shirt when that's the price of a new one? As we fall prey to the lure of more, of premiocre goods, the sad truth is more of what we buy is going to take the express train to landfill.
In the long run, the answer is to buy less, buy better quality, and whenever possible, buy secondhand. During the pandemic my hair straightener died right before I had to do an Instagram Live with a very glamorous author, and I wasn't about to show up with a Fraggle 'do. So, I borrowed one from a friend, then within a couple of days, found one on Facebook Marketplace, biked over, and did a safe exchange to get it. Even during COVID, a secondhand purchase was possible — it cost me 1/3 of the price and was probably faster than waiting for a new one in the mail.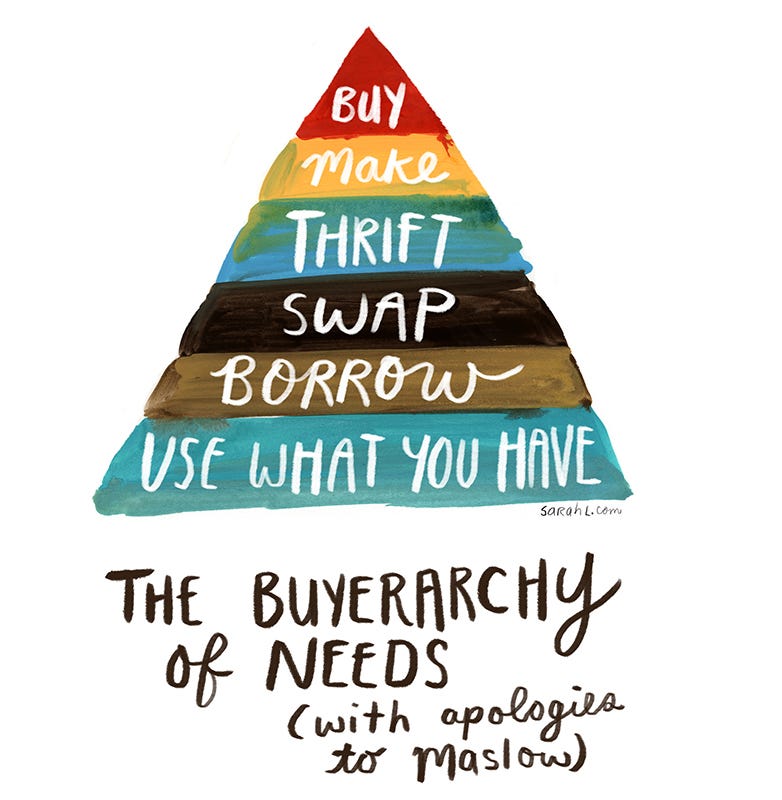 Sarah Lazarovic's Buyerarcy of Needs is a good guide to getting stuff you need
Ultimately, I'd love to see us shift from thinking about buying a thing to taking responsibility for it (call it "extended buyer responsibility"). When you're looking at your pile of discards, take a beat to think about the oil that went into making and shipping that stuff, the trees that were cut down, the chemicals that were released, the workers who went without a bathroom break so you could have a new area rug or tie-dye sweatsuit. And if that's too much of a bummer, at least remember your own resources: all that clutter used to be money.
Take a minute, too, to do some analysis, like some kind of therapist-archeologist. What do these discards say about you, or the decisions you made in the past? That you receive a lot of gifts you don't want? That you overcommit to hobbies in the first flash of interest? That you're always trying to keep up with the latest fashion? That you give yourself a free pass on stuff in a certain category? That you're more likely to impulse buy late at night? Marie Kondo and I don't see eye to eye on everything, but I do think that when you buy something regrettable, you get a lesson as your gift with purchase.
Now, let's review some best practices for getting rid of your worst stuff.
Post it online.
There all kinds of places online to turn your discards into doubloons, like Craigslist, Kijiji, and Facebook Marketplace. You can also post in a local barter group or Buy Nothing group, or give it away on Freecycle. You'd be amazed at things I've given away for free, like those massive lawn soil delivery bags or an old electric toothbrush. This takes a bit more work, but it can be lucrative and has the greatest chance at extending an item's life.
Host or attend a swap.
I'm assuming that one day we'll once again be able to gather in public spaces or one another's homes, all our germs once again mixing and mingling. I've mentioned the joy of hosting a clothing swap before and highly recommend it as some good, clean fun. It not only helps you update your closet (or bookshelf or toy chest or whatever you're swapping), but reminds others that secondhand shopping can be awesome and may also sneakily reduce their consumption.
Donate with laser precision.
The more precise you can be with your donations, the more likely it will be put to good use. This can feel finicky, so maybe offer to take other people's specific discards and make it more worth your while. (I've seen this work really well in my community Facebook groups.) Or find a decluttering partner and divide up the drop-offs: the agencies get more stuff, and you do less work.
Here are some places that might reuse your rejects, wherever you are:
Books: Some libraries have donation bins (in Toronto bring them to the Reference Library once they're once again accepting donations), but you could also put them in a Little Free Library, resell to a used bookstore, or give to a specific drive — I donated a bunch of books to a prison book drive just this spring. Sometimes CDs and DVDs are also accepted. Torontonians can also bring kiddie books to one of my favourite places in the city, the Children's Book Bank.
Building Supplies: Habitat for Humanity Restores are a great place to get rid of your reno remnants or purchase stuff to execute your latest HGTV fantasy.
Furniture and Kitchen Supplies: Habitat for Humanity, Diabetes Canada, and, in Toronto, the Furniture Bank will take items and may even pick up (sometimes for a fee).
Toiletries, new underwear and socks: These items are often in need at shelters. Some accept hotel-size toiletries, and some don't, but that info is usually on their website.
Towels (new or lightly used): Often of use to shelters — just make sure they're in good shape.
Towels, blankets, pillows (old): Call up your local humane society, which goes through a lot of these, and dogs aren't known for being picky.
Winter clothing: Again, a great option for shelters or for agencies that serve new immigrants.
Women's business attire: Non-profit Dress for Success has chapters all over the world.
This Google Map is an incredible resource for donating items all across Toronto, and BlogTO also has a useful round-up.
Torontonians, also take note of your Community Environment Days, where (COVID-permitting) you can drop off craft supplies, sports equipment, electronics, and more (as well as toxic and hard-to-dispose-of items, like old paint and LED lightbulbs).
One final note: True confession — this year, I threw a pillow in the garbage. I probably could have phoned around and found a home at a humane society for my one pillow and then biked it over, but instead I applied some energetic triage. While I want us to work to responsibly dispose of our stuff, energy is also finite, and I don't want us to get caught up in the tiniest battles when there are bigger ones to fight. We're stuck in an imperfect system: just do your best.
Curb it responsibly.
Want to get me cranked up? Leave the books you want to give away out on the street in the rain, or toss a trash bag of clothes onto the snowbank at the end of your driveway. I haven't knocked on anyone's door yet, but it might happen. Nobody wants your books with beach waves or to dig into a mysterious bag of wet clothing items in sub-zero temps.
That said, if you're not an irresponsible dolt, I think the curbside economy can be an easy, effective way to get rid of stuff, especially on a designated day, as we do with Secondhand Sunday twice a year in Toronto. (If your city doesn't have a similar day, why not organize one?) It's not the best choice for textiles (a bunch of clothes or pillows always seems to scream bedbugs), but books, housewares, electronics, gardening equipment, and furniture can find a new home here (as long as you've checked the forecast). For electronics, a note that something works can go far. During COVID, best practice is to first wipe down anything you put out. If you're a street shopper, like I am, be cautious and disinfect or set it aside for a few days when you get home.
Bring it to the thrift shop or community donation bin.
Okay, you've tried all the other stuff? Now's the time to bin it. Save the hardworking employees some trouble and don't include anything that's ripped, stained, or broken. Be honest enough to acknowledge garbage when you see it.
Never leave stuff exposed to the elements (remember, this is irresponsible dolt behaviour), and ideally drop stuff off during opening hours. Also consider who will profit from your stuff — do you want to support a community agency, or line the pockets of a for-profit chain.
---
Remember, there is no true away, no mysterious void for the things we don't want, and everything wears out eventually. While it's especially tempting during coronavirus to buy yourself a quick jolt of happiness with a couple clicks, try to take the long view: you're actually happiest when you're considering buying something. After you have it hedonic adaptation kicks in, and the shiny and new becomes the new normal. After that, it's just a slow slide to clutter.
We've been taught that buying new, better things is how we showcase who we are, mark our life's trajectory, and that happiness and social status are just new dish set or t-shirt away. That's how capitalism and consumerism work. Call bullshit.
We're all sitting at home with our carefully curated stuff right now, and chances are it's not making us that happy. Isolation is a great opportunity to see what we really and truly value, because it's a lot of the stuff we're missing right now: time with friends and family, travel, nature, experiences like concerts, and so on. And, bonus, none of that will ever require decluttering.
---
TL;DR
A maximum of 1/3 of stuff in thrift stores is ever resold.

Get specific to ensure what you're getting rid has a higher chance of getting a second life before the landfill: try reselling or giving away online, contacting community agencies, or hosting a swap.

Take the time to consider why you're getting rid of something: don't do the work and miss the lesson.

When you need something new, see if you can borrow it or buy it used first — save resources for you and the planet.
---
Wins of the Week
"It's possible I'm tallying
wrong in this life.
Better to count down than up."
— Jenny Xie, "A Slow Way"
Here are a couple triumphs that are buoying my spirits this week:
Jenna has become a food waste warrior. She says, "I'm thinking ahead more when it comes to meal planning, I'm getting creative with scraps, using up about 95% of leftovers, and preemptively freezing things like bread that I predict won't get used up in time. I'm sure this will be a lasting effect post-pandemic."

Another friend used her work's charitable contribution matching to collect donations from pals and double the money she could give to an organization doing good work. A lot of us have been donating more money than usual lately, and it's worth asking around to see if you can make that money do more.

Jessica's starting a worm bin! (And apparently so are a lot of others, because most places that sell red wrigglers are out of stock. I'm so here for the coronavirus worm boom.)
My flow of wins has slowed down to a trickle, so please fill my inbox: good news is something you can never have too much of.
xo
Jen