The one thing you can live without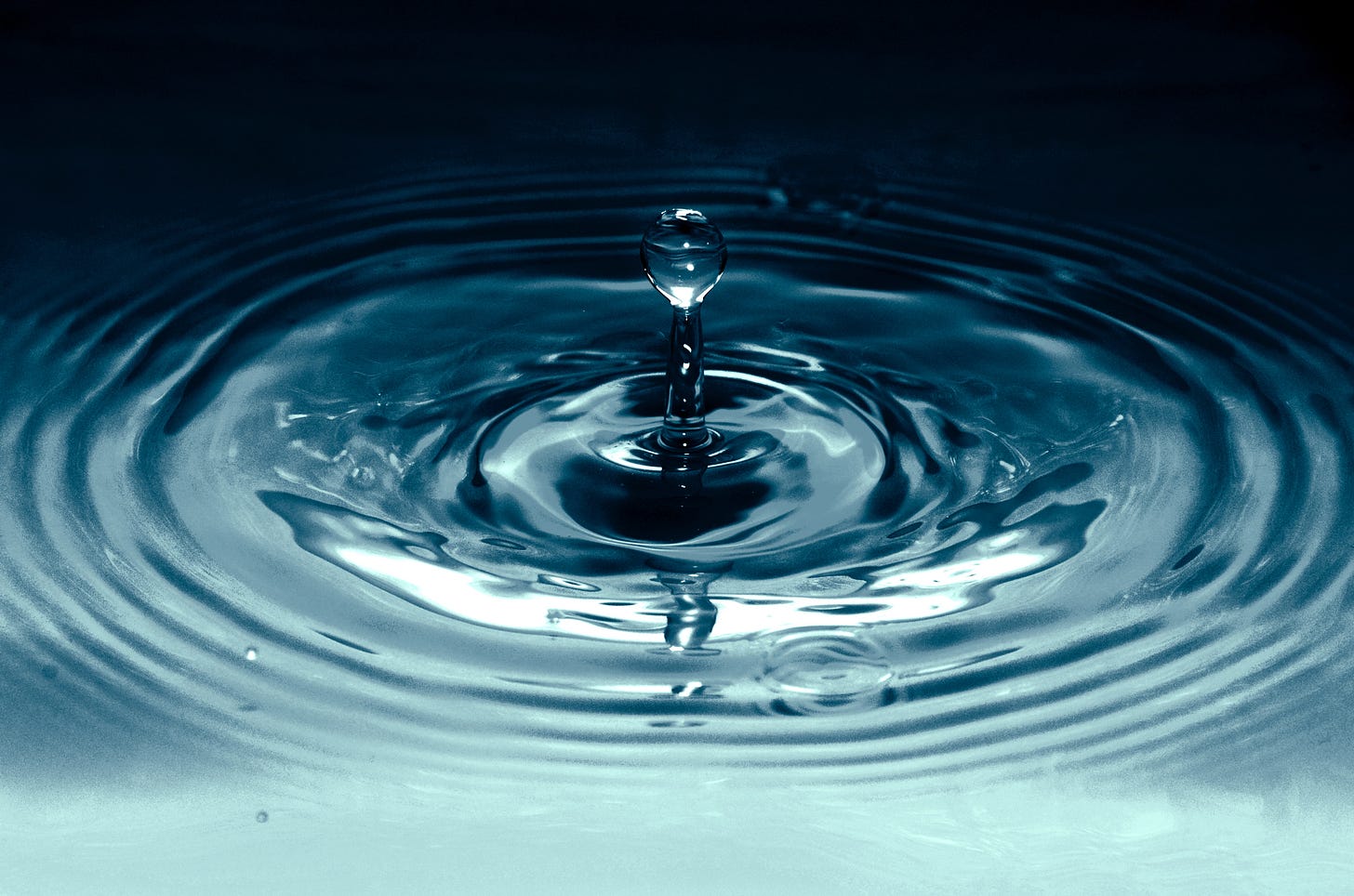 After last week's heavier foray into flying less, this week I'm setting us up for an easy win. So we're going to look at a small change that will save us money, prevent us from ingesting a bunch of microplastics, cut down on plastic production and pollution, and stick it to the multinational corporations that are stealing our resources and doing long-lasting damage to local agriculture.
Sounds radical, right?
Turns out it's as easy as refusing to buy bottled water.
First a quick moment about hydration, the health fixation that's sweeping the nation. I want to assure you that despite whatever a subway ad or Gwyneth or the latest column in a women's magazine has to say, you are probably sufficiently hydrated. And you don't have to trust me, you can trust these doctors interviewed in the New York Times. We've been convinced that we're essentially ambulatory raisins plagued by "mental fog," low energy, and, god forbid, dull skin. We're just eight glasses of water (and maybe a pricey electrolyte tablet or two) away from morphing into self-actualizing, radiant beings. Truth be told, unless you're a serious athlete, or it's deadly hot out, you're hydrated. Drink when you want to. Get on with your one wild and precious life.
We certainly don't to buy need water shipped from exotic locales and wrapped in oil for our convenience in order to stay hydrated. Friends, we have been hustled, and not by J-Lo, Constance Wu, and the gang, but by an industry that spent $109 million in 2018 selling us a thing that most of us can get basically for free. In 2015, Statistics Canada reported that 19% of households drink primarily bottled water. And yet, bottled water costs 2,000 times as much as tap water and, as you can see from this fun chart from U.S.-based Food & Water Watch, costs more than a gallon of milk or gasoline.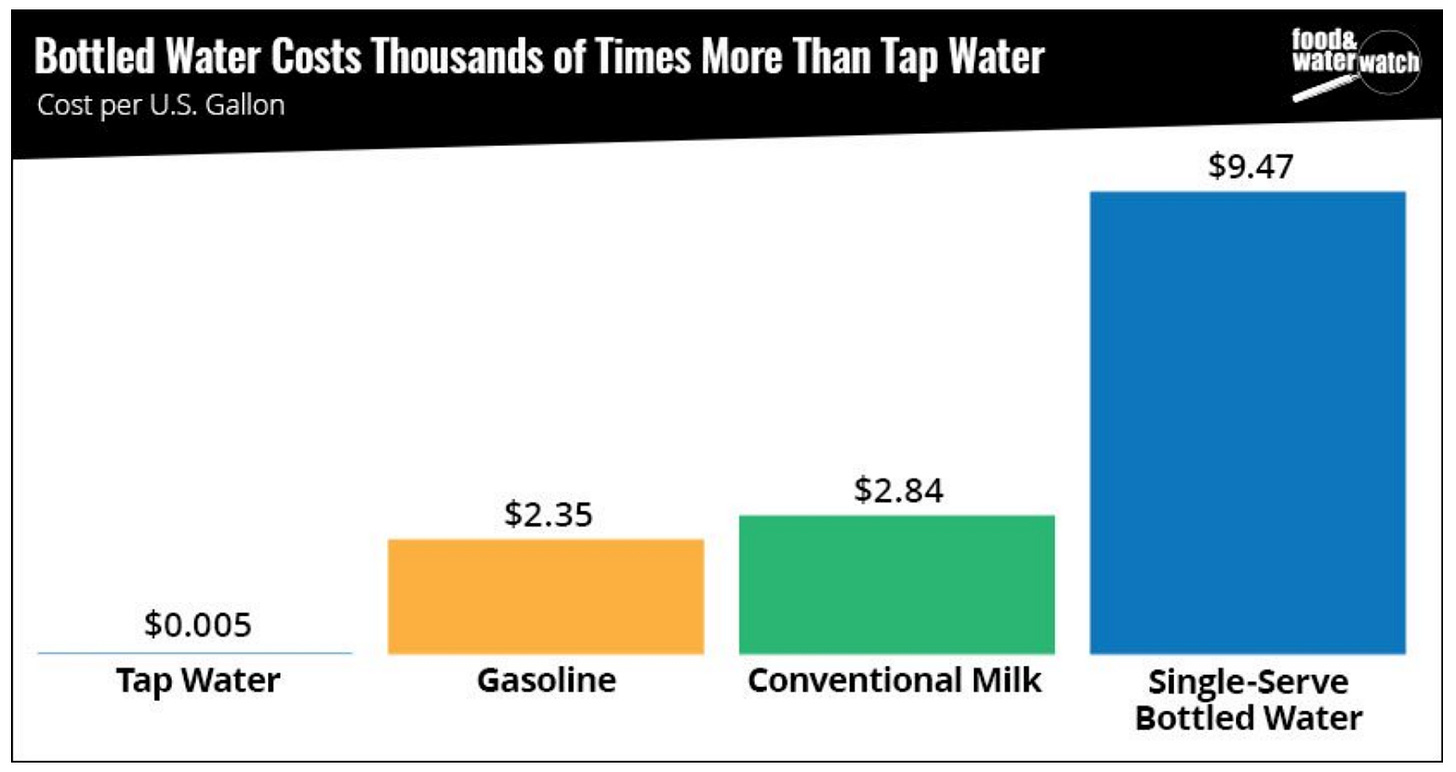 This is almost as ludicrous as if Big Air sold us premium tanks of air from the Himalayas or wherever. (Though as air pollution gets worse, there might actually be a market.) In short, almost anything you do with your money that is better than spending it on bottled water.
Then there's the environmental costs. On the most obvious level, there's the plastic. In 2016, in the U.S. alone, 4 billions pounds of plastic went into making plastic water bottles. That's the equivalent of 64 billion barrels of oil, which we really needed to keep in the ground if we're going to slow global warming. (And less than 1/4 of those were likely recycled into something new, even though water bottles are made of the most recyclable plastic, PET.) To make matters worse, when you factor in the oil processing, it takes 3L of water to make just 1L of bottled water. Around the world, we're using 1 million water bottles a minute. Coca-Cola manufactures 3,400 bottles per second. The alarming statistics area as seemingly endless as the bottles themselves.
But that's not the only environmental cost. Big corporations like Nestlé have long been taking advantage of Canada's lax water permits to pump millions of litres of water a day from local wells, like the Middlebrook well near Guelph. This mega company, which makes $9 billion selling bottled water each year, pays the government $503.71 for every million litres of water it takes. (Until recently, they paid only $3.71, but I don't think their bottom line is suffering.) This is not just unchecked corporate greed, they risk permanently depleting the aquifer in an area that is key Ontario farmland, and as the climate crisis worsens, droughts are only becoming more common. Between 2011 and 2015, the aquifer dropped by 1.5 metres. The Middlebrook well also sits on the traditional territory of the Haudenosaunee, where 90% of people do not have a reliable source of clean running water. If this makes you angry, it should! The provincial government has a moratorium until October 2020 on new or expanded permits, but in the meantime, Nestlé's still pumping away.
Now let's talk about things from a health perspective. Even if that water claims to be from the finest Icelandic iceberg (melting quickly for your convenience!), it's not any better for you, and it may even be worse. Chemicals from plastic may leach into the water, especially if you leave your bottled water in a hot place like a car. An Orb media study found that 90% of bottled water contained microplastics, and that they had levels that were twice that or tap water. In terms of other contaminants, tap water is tested regularly for safety and for most people considered completely safe. Toronto tests the water every four to six hours for more than 300 contaminants. Ottawa performs over 125,000 water tests a year. Bottled water requires no such vigilance and testing is voluntary.
Of course sometimes there are still problems. In November 2019, a Toronto Star investigative report revealed unacceptable lead levels in drinking water in 33% of tests in cities across Canada. You may have caught this news and immediately called 311 to have your water tested. (You still can, and in Toronto it's free, but only recommended if your house was built before the 1960s.) We did. Ours was fine. But it was a good reminder that it's a privilege to have clean drinking water flowing from our taps.
Because of course lots of people don't: 1 in 5 First Nations across Canada are under a boil water advisory, and 2 in 5 in Ontario. It's a prime example of environmental racism, the prejudicial policies and systemic injustices that mean that people of colour are more likely to live with pollution, which often puts their health at risk. Consider any nation under a boil water advisory or, in more a extreme example, the people of Asubpeeschoseewagong First Nation (Grassy Narrows First Nation), poisoned for 50 years by mercury from an upstream paper mill. Government officials found mercury in the soil in 1990, but residents were only informed in 2017. They are still fighting for justice. Or, consider the people, primarily African-American, of Flint, Michigan. After switching the city's water supply to the Flint River to save money, water was so polluted and contained so much lead it was categorized as hazardous waste by the EPA. But a commitment to bottled water wouldn't have solved these problems: responsible government oversight would have.
In any case, these are the people who need bottled water: people who are in an emergency situation (even if that emergency has lasted years). For the rest of us? Convenience is not an emergency.

So what can we do to drink responsibly?
Set yourself up for success with reusables
Get a reusable water bottle if you don't have one. Insulated ones are nice because they keep your water cold and don't sweat onto the other contents of your bag. Remember the most eco choice is the water bottle that already exists (and thrift stores have a ton of them), but resist the urge to reuse existing single-use plastic bottles, which are much more likely to leach chemicals on reuse.

Some people carry their reusable water bottle all the time; I don't, but here's when I make sure to have one: when exercising, when travelling longer distances, spending time in foreign cities, and especially on planes (the way plastic cups are regularly dispensed so we can all have a mouthful of bottled water really gets me boiling).

Empty and wash your bottle regularly. You can buy special bottle brushes, but thus far I've gotten by without them. If things are starting to smell a bit musty, use this hack from the Swiss army: pop in a denture tab, let it fizz away, then rinse.

Help others remember their reusables: I like to remind my travel buddies, colleagues who are staffing events, etc., to bring along their vessel of choice.
Earth-friendlier filtering
So maybe you think your water tastes a little weird, or you just want it to be extra clean. There are still ways to make your water filtration greener.
Important note: your garden-variety filter (Brita, etc.) will not help you with any serious contamination. If that's what you're facing, you need a more serious filter.
Do your part for water justice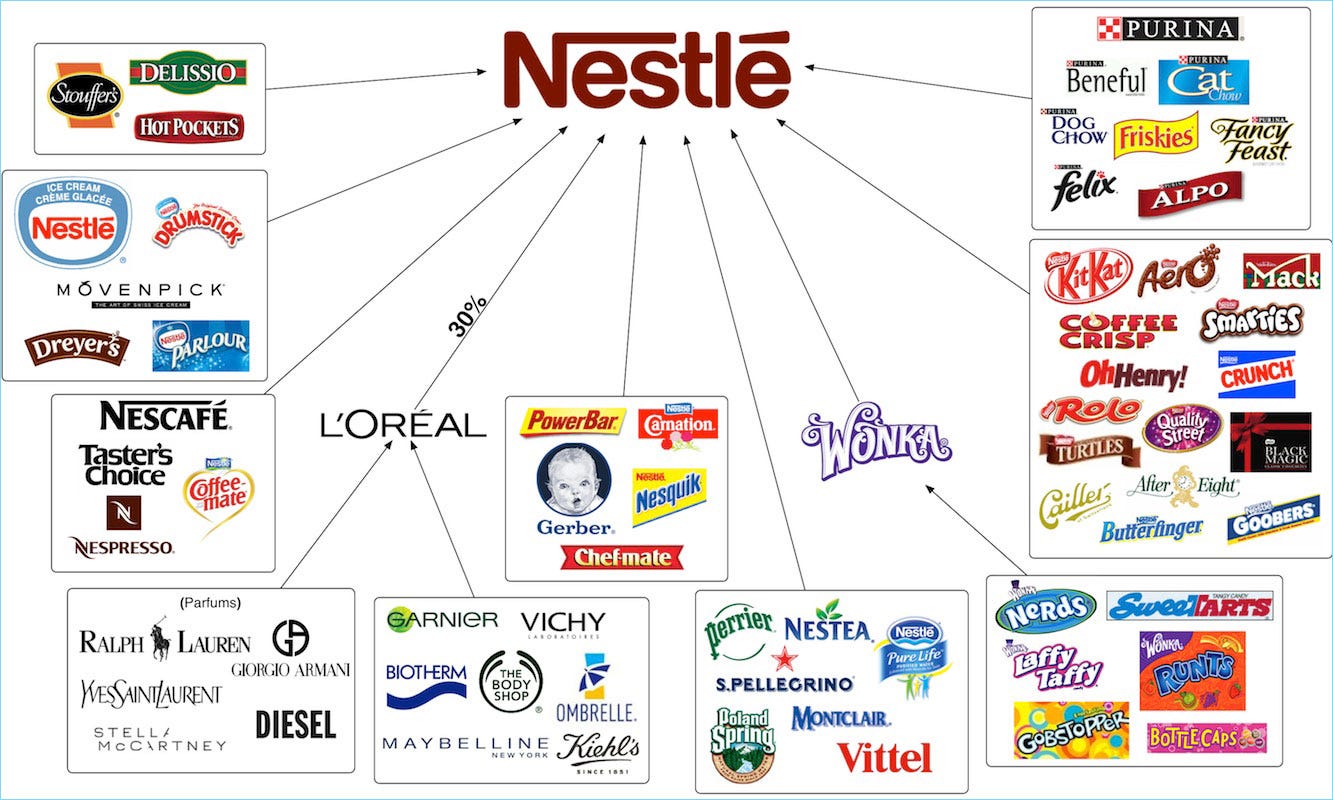 Send this letter, provided by Amnesty International, to Indigenous Services Minister Marc Miller calling for justice for the people of Grassy Narrows. When you have a chance to add you own comments, you might remind the minister of Trudeau's pledge to end drinking water advisories on First Nations by 2021.

Donate to the people of Grassy Narrows to support their fight for justice; to Water First, which provides training in water management in Indigenous communities; or to the Clean Water Fund started by Mari Copeny, aka Little Miss Flint, so they can buy souped-up water filters for communities with toxic water. (Not sure how much to donate? Consider how much you've spent in a year on filters, premium water, etc., to make your water slightly more enjoyable or convenient. Maybe start there.)

For maximum impact, encourage your town, university, union, or church to become a Blue Community. Blue Communities maintain that access to clean water is a human right, ban the sale of bottled water on the premises, and promote the necessity of keeping water utilities publicly owned and operated. The Council of Canadians offers a toolkit to get started.
---
TL;DR
Do you drink non-alcoholic liquids semi-regularly? Congratulations! You're hydrated.

Bottled water is the hustle of the century: it's more expensive, terrible for the environment, and can be less healthy than what comes from the tap. Be the kind of person who doesn't need their water wrapped in oil, and encourage your workplace, soccer team, etc., to do so too. Save money, save the planet, get on with your life.

If you like to filter, invest in a plastic-free option or save those Brita cartridges to send 'em back for recycling (or, if you see me regularly, give them to me).

If you're not into Nestlé stealing our water to sell it back to us, don't buy their products.

Certain groups, most often racialized ones, do need bottled water or advanced filtering because their regular water sources have been compromised. Help ensure a basic human right and donate some $$ to help them get safe, secure water, and find justice for mass poisoning.
---
Learn more to level up
Read
---
Wins of the week
I love hearing about the green gains you're making in your own life, whether big or small, and I want to shout them from the rooftops (i.e., this newsletter). Write me about any eco action you've taken recently (even if it's not related to that week's topic) and with your permission I'll share it here. (You also can be anonymous if you'd like.) There are so many Five Minutes for the Planet readers doing great things, and I want to give you all virtual high fives. Let's make this newsletter not just a showcase of what can be done, but also is being done.
Crissy patched up a pair of jeans and sewed her first handkerchief!

Kerry and I both made our first sourdough bread!

I got my employer to agree to offset all our work-related flights, for the last year and going forward. That's 30 tonnes from last year! We've invested in clean cookstoves in Peru through Gold Standard.
---
Now tell me . . .
What are your recent eco victories? Let me brag like a proud grandma with a wallet full of photos.
Also: Is there a topic you want me to cover? I have a big old list, but I'm happy to add to it! Leave a comment, reply to this email, or get in touch with me on the socials. DJ JK is officially taking requests that'll get us all in a green groove.