This is what saving the world looks like
Our #1 asset in the climate fight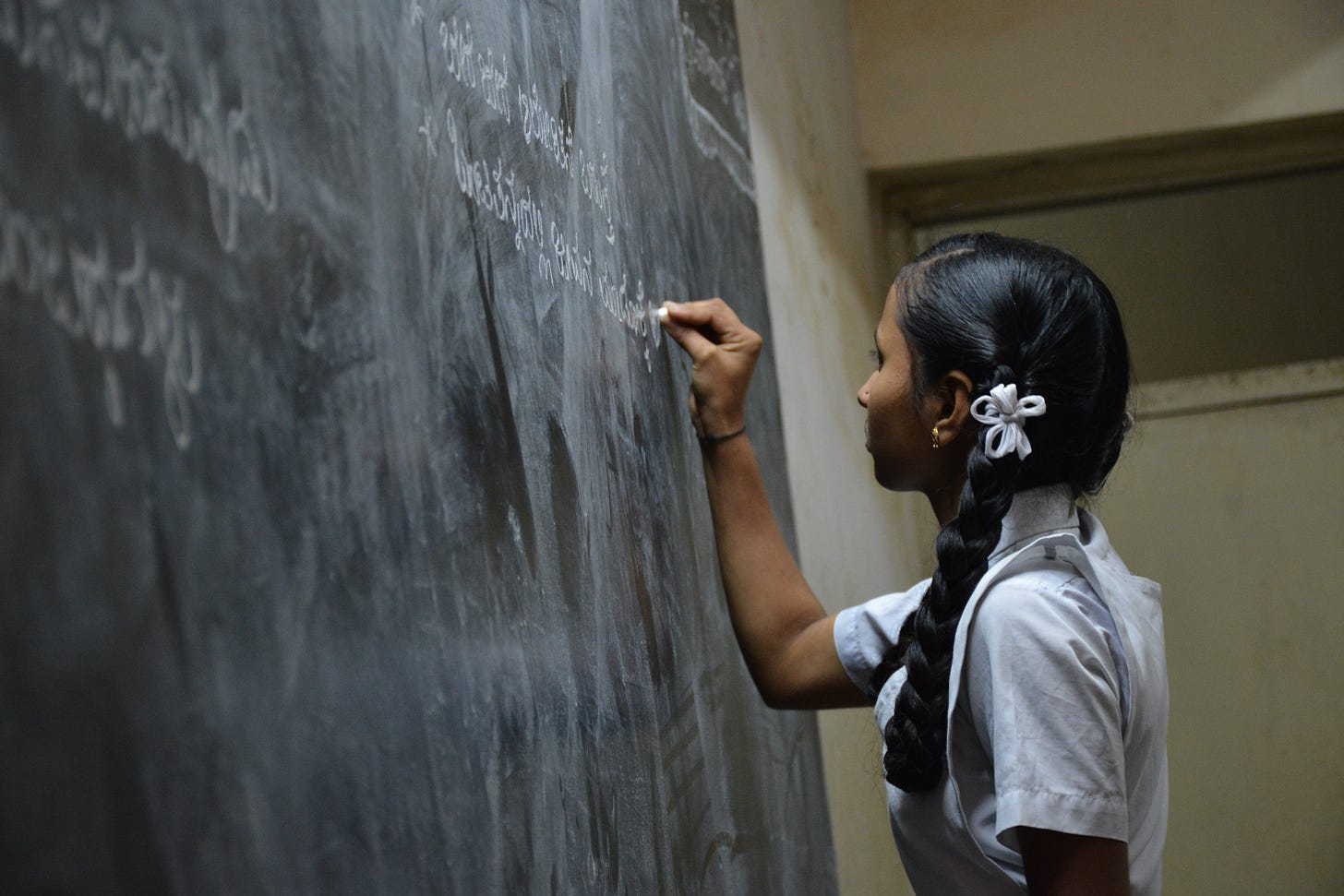 This week we're looking at something huge: the thing that might make the single biggest difference in the climate change battle. It isn't wind or solar power, or mass transit, or electric cars, or veganism. There's no new technology required, and it's actually amazingly basic.
All we have to do is . . . protect the health and education of women and girls.
If you just had a small rage blackout, I understand. I've been there. Patriarchy is a virus that not only hurts and kills women, limits their potential, and infects basically every aspect of their lives, it's doing the same to the planet.
Also, the negative effects of climate crisis hit women harder: women often stay behind in disasters to care for children and the elderly, putting them at higher risk; in lower-income countries they are more likely to be responsible for fetching water and growing food, which will become harder and take longer as the climate crisis escalates, meaning less time for things like education. As we saw when we looked at race, those who face oppression also carry a heavier environmental burden and are often ignored in the search for sustainable solutions.
So often as we consider the environment, we think about pandas and oceans and forests and (shrinking) icebergs, but we forget about people. That a pristine world means nothing if human rights are not protected first.
In short: gender equality is an environmental issue. Climate change is a feminist issue. The United Nations puts it simply: "the resiliency of households and communities depends in great part on the resiliency of women." Or, as I'd put it, the world is only as strong as its women.
Luckily, there are things we can do that help women and help the world. Call these no-brainer solutions to reduce world suckage.
Education
Today 62 million girls (the equivalent to the population of all of Italy) still have barriers to schooling, especially secondary school. Education not only means personal growth, economic growth, and upward mobility, it also usually means marrying later and having fewer children, which is helpful for minimizing resource stress on our planet, but also, duh, is great because everyone should be able to make empowered adult choices about their lives. The geniuses at Project Drawdown also note that education of girls corresponds with lower maternal mortality, lower rates of HIV and malaria, and even more productive agricultural plots.
Family planning
225 million women in lower-income countries want something fundamental: the ability to choose if and when they become pregnant. But without birth control, that's next to impossible. (It's worth noting that even in a rich country like the U.S., 45% of pregnancies are unplanned.) Not being able to control your uterus means giving up control of your entire life, and in places where childbirth is still high risk (including America if you're not white), it might mean an early death.
Now, talking about population control risks straying into Malthusian territory, and sadly it is not self-evident to everyone that this kind of family planning must always be voluntary and grounded in women's dignity. The ability to control one's own body is a basic human right. The environmental benefits of fewer children are a side effect, though a big one. (It's also always important to keep in mind, should anyone start pointing fingers, that the carbon footprint of all children isn't equal: Canada has per capita emissions of 16.9 tonnes of CO2; in China it's 7.7, and India it's 1.8.)
By 2050, if we closed gaps on education and family planning, we could have one billion fewer people on this planet. That means we consume less food, water, resources, etc., and avoid 120 billion tons of emissions over the next 30 years.
Funding for small farmers
Women produce 60 to 80% of food in lower-income countries, despite having fewer resources and rights than men. If you improve small-hold farmers' access to funding, tools, training, technology, they can get 20 to 30% more food from the same patch of land. (This is not only good in terms of health and household finances, but more productive land means less deforestation, which we know is essential in the fight against climate change.) That small improvement can also save lives: just that improvement in yield could mean 100–150 million people are no longer hungry.
Oh and by the way, Drawdown found that "when women earn more, they reinvest 90% of the money they make into education, health, and nutrition for their families and communities, compared to 30 to 40 percent for men." (And if that statistic makes you want to scream into the night, join me!)
Help women, help the world
Obviously fixing this situation is a little more complicated that changing your lightbulbs, but we can do one simple thing: open our wallets. I know times are tight, but if it's possible for you, here are three organizations doing exceptional work that could allow you to fight gender inequity, poverty, and climate change (3 for the price of 1!):
Living Goods trains community health promoters in Kenya and Uganda as both entrepreneurs and people who can provide vital products and services to their community. Travelling door to door, they sell things like medicine, safe baby delivery kits, clean-burning stoves, birth control, sanitary products, and fortified food, all at about 30% under market price. It's ranked as a standout charity by GiveWell, a respected results-based charity evaluator. (To make a tax-deductible donation in Canada, you can donate through RC Forward.)

Population Services International works in 50 countries to help get birth control into women's hands, whether it's by training public health workers, distributing products for free or inexpensively, or developing education campaigns. They also work on preventing malaria, HIV, and non-communicable disease, and improving clean water access, sanitation, and hygiene. They provide health care to 10 million people a year.

The One-Acre Fund offers low interest loans to small-scale farmers so they can buy the supplies they need, and then they deliver them so there is no access barrier. They also provide agricultural training and help farmers build relationships with sellers and tradespeople. 98% of loans are repaid, crop yields increase by 50%, and farmer income by 62%. 
One amazing thing to keep in mind: thanks to the massive wealth disparities between rich and poor countries, sending your money to a poorer country means it could go 100x as far. (For more on the 100x Multiplier, see William MacAskill's Doing Good Better.) Even a small donation can have a huge impact.
If you can set up a recurring donation, all the better: consider it one way of paying your feminist dues.
---
A final note for the men folk
Here at home, the green movement, especially at the household level, often looks pretty pink. By and large, women are the ones darning socks and taking their jars to the bulk store, hunting for biodegradable package-free dental floss and making their own toilet cleaner. Bonus domestic labour, which, I'm sure you know, women still do more of anyway. A quick scan of my subscriber list suggests it's heavily female, and I hope my male subscribers are exceptions. 
This Vox article has a couple theories why women are driving this electric vehicle, among them that ladies, who are largely locked out of boardrooms and C-suites, control what they can (family purchasing, the domestic sphere). But women also seem to be more sensitive to the needs of our planet and other people. A U.K. study found 71% try to live more ethically, compared to 59% of men. (Apparently eco behaviour isn't manly enough. Or maybe the apocalypse is the ultimate action movie?)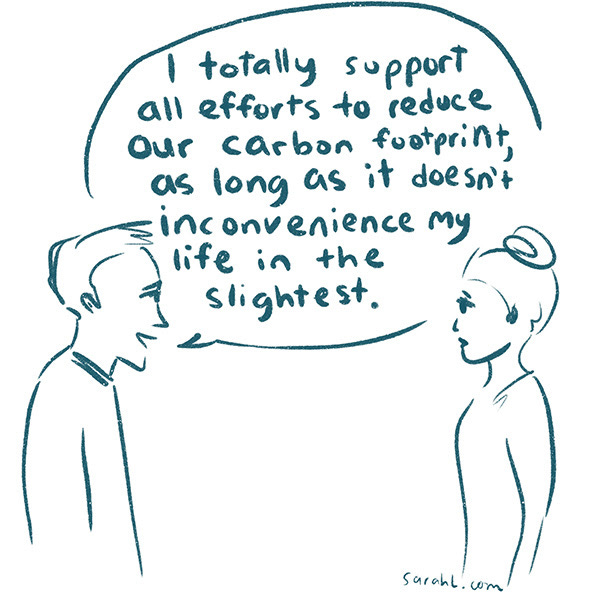 This almost-too-killer comic from Sarah Lazarovic, author of the excellent eco newsletter Minimum Viable Planet.
Men usually have more time, more money, and more power. Thus taking an active role can make a big impact. Men, we need you to sometimes take lead on green goals at home, to support our initiatives and ideas at work. We need you to talk to other men about environmental stuff, and not just the big issues, the science or politics of it, but how you've changed your commute or you're cloth diapering. We need you to model the manliness in bringing your own mug or rounding up people to go to a climate protest. We need you to forward this newsletter to two male friends. (Okay, maybe that's mostly for me.)
This week, we've seen that women could save the world. We've been cleaning up men's messes for millennia, and we don't plan to stop now. But we can't do it on our own, or without justice, resources, and respect.
So this week remember: there's no environmental justice without social justice. And if we want a greener future, we need women to help get us there.
---
TL;DR
Women, especially those in lower-income countries, suffer the negative effects of climate change disproportionately

Providing equal access to education, family planning, and subsidies for small farms could do more to fight climate change than any other intervention.

Women are more likely to drive eco actions at a household level — generally, they're doing more than their fair share for the household and the planet.
---
Wins of the week
"We can't save the planet without uplifting the voices of its people, especially those most often unheard." — Leah Thomas, @greengirlleah
Here are a few things you're doing that are well worth celebrating:
Victoria and Steve are buying less meat, and better meat. (Which, btw, is my philosophy too.)

Jenna has been making her own iced tea using a huge pot (her partner calls it her "cauldron") and storing it in glass bottles from IKEA or reused Perrier bottles. A healthier, cheaper, greener alternative to buying non-water options from stores.

Lyn and Jimmy have sourced many materials for their home renos from the Habitat for Humanity restore.
This week, a special callout to male newsletter readers: what have you been doing lately to make this world a little better for us all? I'd love to make next week's wins a bro show.
As always, I'm happy to hear your feedback — it's useful to know what is working for you and what I can do better. If something's really opened your eyes or is causing you to change your behaviour, please do let me know! I want this newsy to be fuel for the fight, carb-loading for the marathon of environmental justice.
xo
JK