Unpacking packaging
Grappling with garbage-with-purchase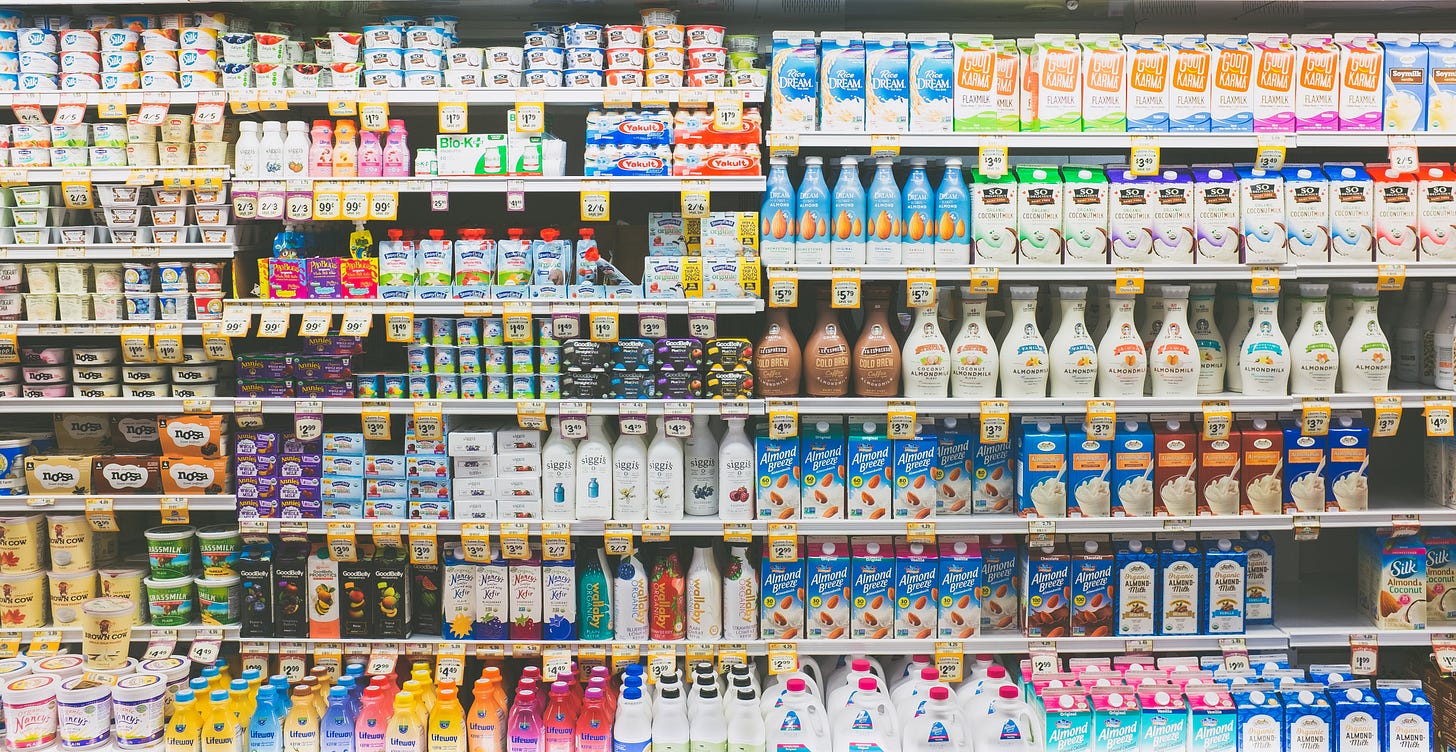 Before this coronavirus blew into town, I was feeling pretty proud of my fridge. I have the privilege of living near a bulk store and a crunchy grocery co-op, and I was buying less single-use plastic than ever. I'd also been working with a local group to bring bring-your-own-container signage to local businesses. We got our stickers printed, we were ready to canvass local businesses, and then . . .
Well, you know. Bulk stores stopped letting you bring your own containers (or even shopping bags) and things started coming with extra packaging. It felt like a setback, and it sort of is. Human health comes first in a pandemic, but it's still worth seeing what we can do, now and in the future, to keep planetary health a priority.
Carbon context
Whenever we talk about packaging, there are a couple key factors: the environmental footprint of making and using the product and the consequences of managing the waste. It's a complex equation, and your own priorities will play a part.
The average household in the U.K. buys 4,000 packaged products a year, and I imagine North American homes are quite similar. I'm going to focus on food, since that's how we encounter the most packaging in our daily lives. (If you're buying non-edibles, remember that secondhand is almost always package-free.)
A lot of people come to low-waste lifestyles because they're frustrated by their overflowing trash bins, footage of the Great Pacific Garbage Patch, or simply all the trash confetti revealed by the spring thaw. And it's disgusting, infuriating, and downright shameful, to be sure. But those plastic pouches that'll drift in the ocean for a thousand years are just the visible pollution. We also have to consider packaging's invisible pollution, namely greenhouse gases (though a lifecycle analysis will also include water use, chemical pollution, etc.).
Let's return to my favourite chart (#sorrynotsorry) to look at the total carbon footprint of some common foods (click on it to enlarge and zoom in):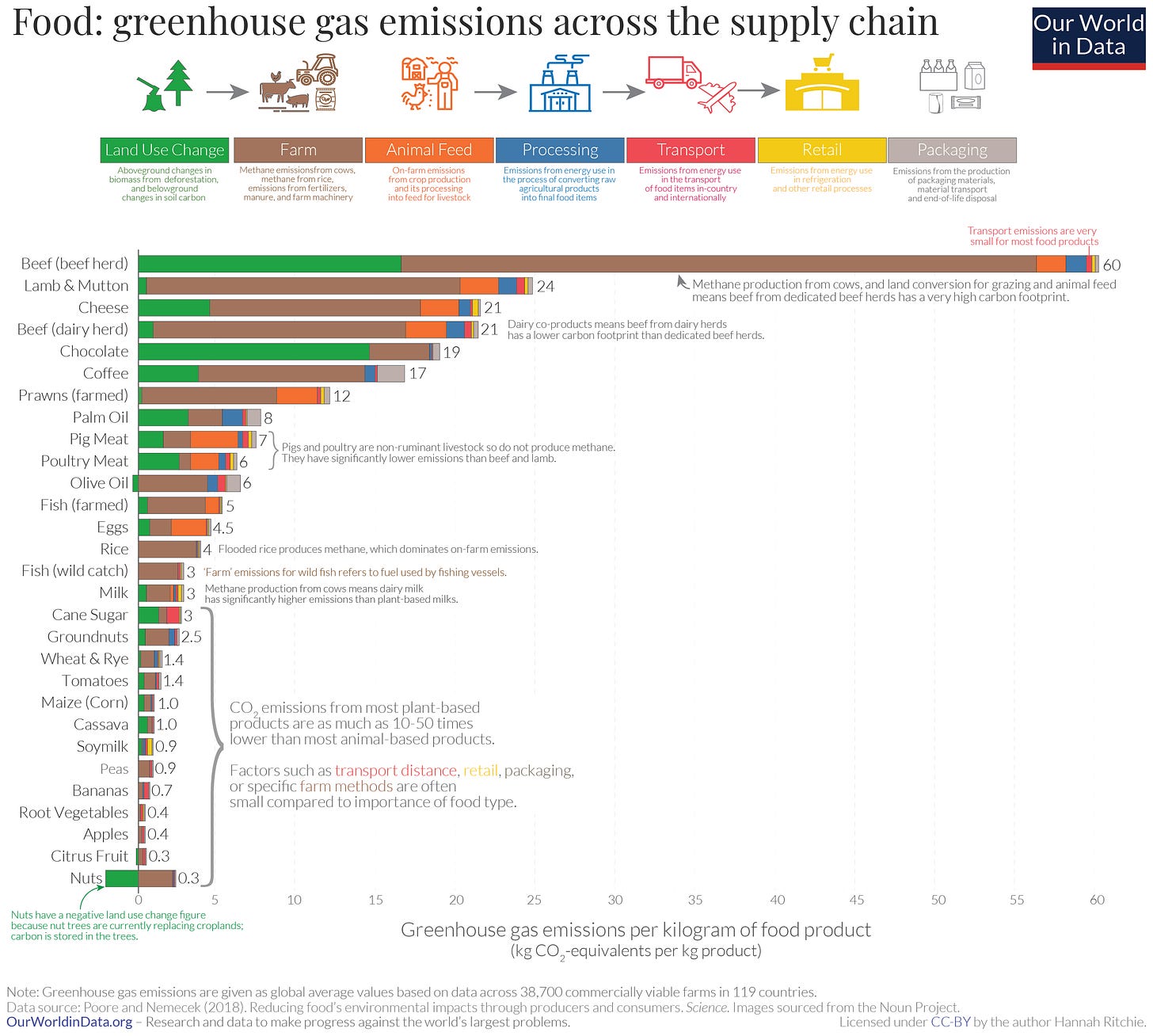 The grey bar is the packaging footprint, and finding it is almost a Where's Waldo exercise. Which is a good reminder that:
What we're buying has a far bigger carbon impact that anything it's packaged in, so a vegan who buys everything in plastic containers has a much lower impact than an omnivore who could fit their year's waste in a mason jar. (I did a deeper dive on the carbon price tag of meat here.)

Food waste is worse than any packaging waste.
The other important factor is how you're getting your groceries. One plastic bag is responsible for about 33 g of CO2. In the average Canadian car, driving one km releases 63 g of CO2. So if you're driving out of your way or making a special trip to save a few plastic bags, carbon-wise, you're doing more harm than good. (If you missed my newsletter on cars, you can find it here.)
So before we even get into packaging, we know the much bigger green choices are to eat fewer animal products, waste less food, and drive less to get it.
Paper and plastic and glass, oh my!
But now you're deep in the grocery store, sweating behind your mask, and it's time to decide: paper? plastic? glass? Give up eating altogether and never make this choice again?
Let's look at the options.
In short: metal is great, glass is good if you'll reuse, and with paper and plastic you'll have to choose between the lesser of two evils.
This packaging conundrum might have you frustrated, and it should! So much packaging is ridiculous and wasteful. (Occasionally, though, it can be serving the greater good: that plastic sleeve on your cucumber makes it last three times longer and prevents damage in shipping, avoiding lots of food waste. In summer, though, a local cucumber can avoid plastic and food waste.)
In general, packaging is deeply embedded in our food system, now more than ever, but there are still a few things you can do to empower yourself, rack up some eco wins, and sometimes beat that system.
Resist single-serving packages.
I know, portion control can be hard — our ape brains want all the delicious calories, all the time. But you're a grown-ass human, right? You can trick your mind and move those chips or that yogurt into a smaller reusable vessel. I understand really young kids are like black holes for reusables, but I'm pretty sure no adult needs to eat from a yogurt cup in their own house (or, frankly, anywhere).
Reuse your packaging.
Want a fancy pantry full of jars? (Who doesn't?) You don't need to use canning jars, especially if you're never going to can. Just save the jars that pass through your house every day and you'll have a great collection in no time. (Here are some essential tips on removing labels and de-smelling lids.) If you don't want your glass jars, someone else might: diehard zero-wasters can never get enough. Offer them up in a local group or put them on the curb.
But beyond the obvious glass, lots of packaging can be repurposed. As the wise Sarah Robertson-Barnes says, "It's only single-use if you use it once." I empty my trash into cat litter bags, use a frozen veg package to take out municipal compost, store produce in bread bags, get my shampoo refill in a plastic BBQ sauce bottle, give away plant divisions in any container I can find in the bin. Yes, if you save everything forever you're probably destined for an episode of Hoarders, but a lot of things can get another kick before they're destined for the can.
Shop naked.
When possible, choose unpackaged produce (just wash it well with plain water), buy in bulk, etc. Though these options are still not truly zero waste (the larger quantities usually come to the store in single-use packaging), you do make less garbage and get just the amount of something you need (avoiding food waste). Right now this isn't an option for most dried or liquid goods, but I know one day I'll be getting my jars weighed again, and I can't wait.
You can also shop at excellent zero-waste grocers, who do their best to reduce waste throughout the supply chain. (Under coronavirus restrictions, they may make some concessions, but they're doing their best.) Toronto's has a glorious array of low- or no-waste grocers like Bare Market and Urban Bulk and Refill (east end), Karma Co-op and Annex Market (central-ish), and Unboxed Market (west end).
Make it yourself.
Anything you make yourself is package-free (especially if you can get your ingredients in bulk). Plus homemade food usually tastes better, is healthier for you, and is much cheaper. In our home, we regularly make mayo, salad dressing, bread, hummus, pesto, kombucha, and apple cider vinegar. Before I cut back my dairy consumption, I made enough yogurt to have it every day. (It is shockingly easy.) Most of these things are pretty simple, and can be part of your regular meal prep. For great everyday #makespo, check out the Zero Waste Chef's recipe index.
---
TL;DR
Packaging is certainly an environmental crisis, but eating more plants, avoiding food waste, and reducing car trips are all priorities over packaging.

Metal is your best packaging choice, but glass is a great if you intend to reuse.

Paper has a higher carbon footprint than plastic, though plastic persists in the environment for hundreds of years.

Cut down waste by making things at home and refusing single-serving packaging.

Reuse the packaging you have whenever possible; as Sarah Robertson-Barnes says, "It's only single-use if you use it once."

Bringing your own container (when we're once again allowed) or buying naked produce is best of all.
---
Reader wisdom
Last week's seafood newsletter brought some great recos from readers I'd like to share. Erin, trusty captain of her own fine ship, notes fish-eating west coasters can do extra good by:
supporting small canneries like St. Jean's

researching seafood stores that operate out of local marinas and supporting family-owned fishing boats

supporting Indigenous businesses
Both Erin and Lyn also highlighted seafood CSA (or sea-SA!) Skipper Otto, which is a great way to support Canadian fishermen by a buying a share of their sustainable catch upfront. They deliver to many cities across Canada.
If you have extra insight into any given topic, don't hesitate to get in touch! Click reply to the email, leave a comment on the post, or find me on Instagram.
---
Wins of the week
I asked, and you guys delivered. Here are a few ways y'all are making a better planet:
Julie and Travis planted an incredible vegetable and flower garden, planted in almost entirely scavenged and upcycled containers (tip: old dresser drawers make awesome planters!) and plants grown from divisions or seed.

Nina's been downsizing with the help of her local Buy Nothing and Kijiji.

Erin is doing cat toy exchanges with her friends, which I think is brilliant. (If anyone in TO wants to do this with me, let me know!) There are so many swappable things!
Thanks, as always, for reading, writing, and taking a few precious minutes for a greener world.
xo
JK