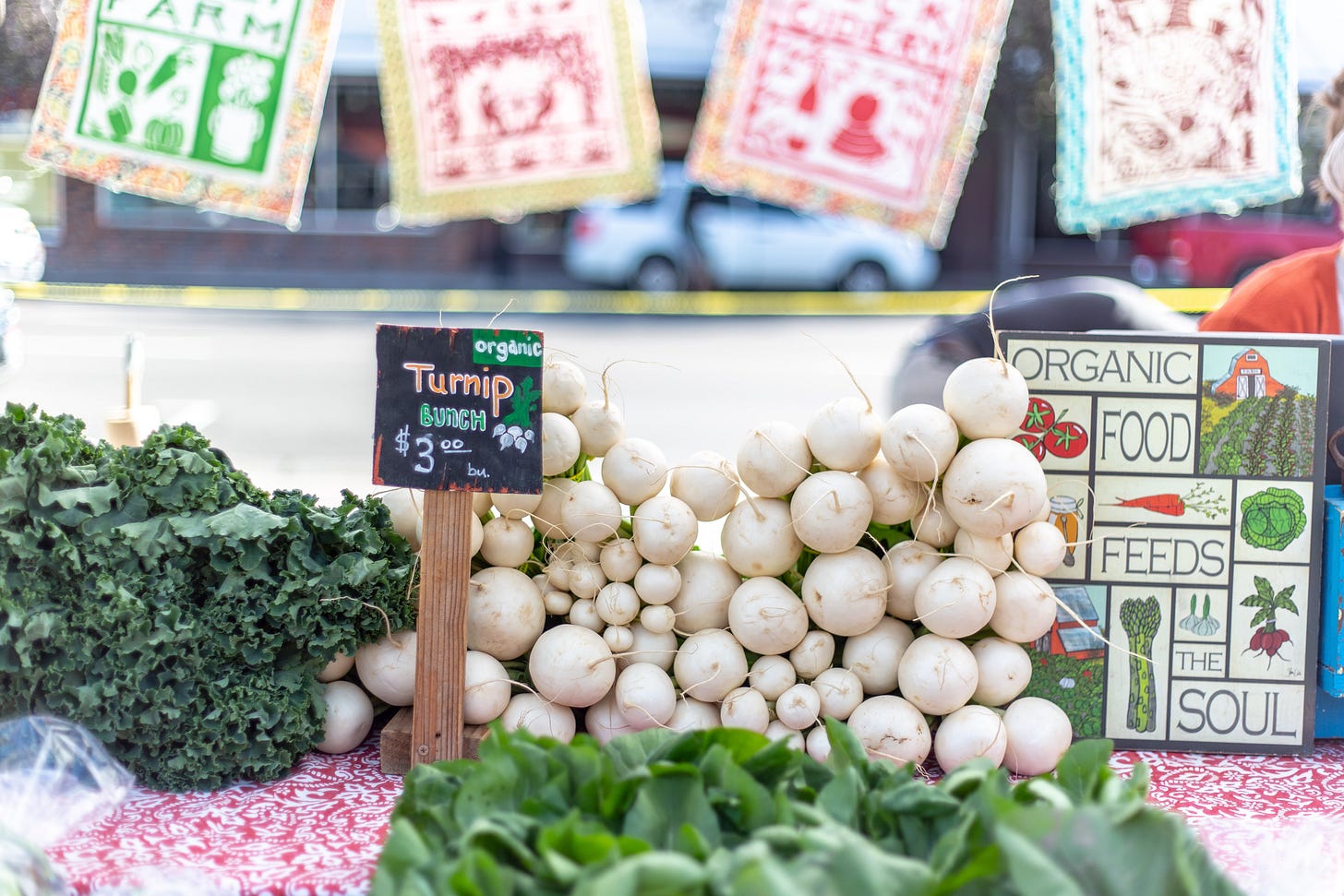 In previous weeks we've talked about what we eat, how it's grown, and how it's packaged, so this week we turn to where we buy it. And while that might seem like a very small part of the system, retailing is so powerful that it shapes the entire supply chain.
Groceries are a low-margin business, and yet curiously Galen Weston, owner of Loblaws, is one of the five richest people in Canada. (And, by the way, this group of five men has the same wealth as the bottom 30% of Canadians.) Also on the list of Canada's rich and powerful? James Pattison, owner of the Save-on Foods chain, who's in the #10 spot, and the Sobey family (owners of FreshCo, Foodland, Farm Boy, and others) comes in at #35. What's going on? Is something rotten in the state of grocery retailing?
For the answers, I've turned mostly to Jon Steinman's thorough and fascinating Grocery Story: The Promise of Food Co-ops in the Age of Grocery Giants, the source of the facts in this week's newsletter, unless otherwise linked. Here's one reason for those Scrooge McDuck dollars: in Canada in 2016, 80% of groceries were bought at Loblaws, Sobeys, Metro, Costco, or Walmart (market share descends in that order). With fewer competitors, these big-box bruisers have a lot of power, and they're not afraid to use it.
That means profits for them and their shareholders, and for some of the multinational food companies that dominate shelf space, but these profits have a price, and it's paid by farmers, small food companies, and consumers. (Remember the Loblaws bread price-fixing scandal of 2017? To compensate consumers, the chain gave out $25 gift cards, though the 15-year price fixing could have easily cost a family $371.80.)
First let's talk about the farmers. Since 2000, farmers have been operating at a deficit, basically subsidizing our food with their own debt or off-farm work. The median 2018 farm income in the U.S. was negative $1,316. A big factor in this is not being able to demand fair prices for their crops because 80% of retail power lies with a handful of companies. Out of every dollar we spend, only 14.8 cents ends up at the farm, but in 1950 farmers would have collected 40 cents of that same dollar. (Farmers are also squeezed by six major agricultural inputs suppliers, such as Monsanto — near-monopolies on both sides.) Small farmers also can't land contracts with major chains, as they can't guarantee the necessary volume (and these high-volume requirements encourage unsustainable monoculture farming).
And let's take a moment to talk about supermarkets' role in food waste. Five Minutes for the Planet readers know that reducing food waste is one of the best ways to fight the climate crisis. Up to 10% of our food waste total comes from the grocery store, often from things like overstocking displays and the confusion of best-before/sell-by dates, but there's much more hidden waste downstream. Retailers have exacting size and quality standards, which are not only linked to an increase in pesticide use (which harms biodiversity and pollutes waterways), but mean farmers have to grow more than they need in order to meet the minimum order and the aesthetic standards. (For example, "leeks with 11 inches of white and 1 inch of green, tomatoes at colour stage 5.") In Grocery Story, one farmer admits, "I have to grow for the maximum size of a single order, or else I lose the contract. So I grow on that scale even though the order is usually a lot less. Everything I don't sell, I have to destroy."
The big chains have so much power that they have even determined the varieties of food farmers grow — qualities like the ability to be picked unripe, hold up well in transport, or fit in standard-size shipping containers are prized over flavour. ("Mmmm, tastes . . . efficient.") We can't blame our loss of food diversity on farmers — they're growing what the retailer wants.
Now what about smaller producers making mustard or pancake mix? They're up against astronomical fees just to get in the store and stay there — Steinman calls grocer shelves "the most expensive real estate on the planet." Producers don't get on the shelves by making a good product; they buy their way in with slotting fees (to get a product on the shelf), contract allowances (a fee to keep it there), and promotional allowances (paying for a special display, ad, or even a discount or price match — yes, discounting comes at a cost to the producer).
So who can afford these sky-high fees? Big corporations, of course. In 1968, food manufacturers spent 28% of their marketing budget on store placement; in 2010 they spent 70%. Buying space also means controlling the competition and boxing out competitors. Sometimes a big brand like Nestlé is even put in charge of an entire section, such as cereal, and they decide who should be on the shelf. Even selecting the food for a store boils down to corporate interests serving other corporate interests.
I know, I'm sorry. A trip to the grocery store is stressful enough these days, and can't we all just happily collect our PC points and move on? What can we even do?
Well, on a government level, bringing back the robust anti-trust policies and enforcement that lasted until the mid-1980s would help stem some of this power. And better subsidies for farmers would allow them to actually get paid for their work — this kind of incentive is especially important for farms with regenerative practices.
On a personal level, many of us have the option to support a healthier food system, from farmers right up to the retail level. Sometimes this will mean paying more, which is to say paying for what food is actually worth. For some people, especially in the COVID-19 era, that's impossible, and we're going to need those systemic changes to help provide better food for everyone.
But for those of us who have the means, the biggest obstacle is likely being used to a lifetime of rock-bottom food prices. As an admitted cheapskate with a mental index of best prices for every product I buy, I've found this challenging at times, but I've tricked my mind a few products at a time, and I no longer think I should pay $2.99 for eggs.
No one has to give up the big grocers entirely, and most of us wouldn't even be able to given lack of access to independent options. But as Lauren Nurse, of Small Spade Farm, near Stirling, Ontario, says: "We can't continue to expect to pay $1 for lettuce. Somebody is being exploited under that system, and certainly the environment is being exploited."
So let's look at some other options that can not only avoid exploitation, but support a healthier food ecosystem. Even if we all just shift 10% more of our purchases, we could have an impact. And here's the thing: you'll start because it feels right, but soon it will also feel good — and taste that way too.
Cook from whole ingredients
People are more time poor than ever, especially working parents, but if you do have the time, the more preparation you do yourself, the more money goes to farmers instead of a giant corporation. Every step of processing added to a food lowers the farmer's share — another factor in that diminished income as consumers turned to more prepared foods in the '90s. So if you've got the time, try making a few more things from scratch. It'll not only be healthier, cheaper, and inherently satisfying, you'll be giving less money to big processors (McCain family, net worth $4.51 billion) and more money to the people who grow the food.
Buy from the farmer
Nothing supports a farmer like cutting out the middlemen. It's a fantastic time of year to buy local bounty, and as a bonus, you get to shop in the open, less covidy air and get the freshest food possible short of growing it yourself.
If you want to give farmers maximum support, sign up for a community-supported agriculture share next season, which means buying a share of the harvest at the beginning of the season, when farmers badly need funds. You'll get a box of farm-grown goodies weekly or biweekly for a set period. You can also join CSAs for things like meat and local flowers.
Shop from an independent store
We've talked before about the benefits of buying local, but in the case of food it might be all the more vital. Independent outlets are more likely to support small producers and less likely to employ the predatory practices of the big guys.
If you're not sure if your grocer is independent, here's a round-up of chain-owned brands, courtesy of Jon Steinman. In Toronto, legit indies include Fiesta Farms, The Big Carrot (which is actually a worker-owned co-op — more on those in a minute), Annex Market, Unboxed Market, Bare Market, The Sweet Potato, Herbs and Nutrition, and Rabba Fine Foods. And of course your community butcher or greengrocer or bakery is always a great option.
Remember, by shopping local, you're keeping dollars in the community and supporting your city through that business's tax dollars. You're not just buying bread, you're also sustaining the library.
Join a co-op
To do the most good with your grocery dollars, join a cooperatively owned grocery store. That might seem like the kind of thing that's just for wealthy hippies who grind their own flour, and that can be a part of the clientele, but co-ops also have a proud history of serving Black communities in the early 20th century and addressing food apartheid more recently. They exist in red states and blue ones, serve small towns and big cities. They might stock only organic food or mostly conventional — it depends on the needs of the community. By definition, a co-op is just a business that is owned by customers (and/or employees), but co-ops are also values-driven social enterprises that prioritize democratic member control, cooperation, community well-being, and positive social and environmental impacts. Any profit is put back into the store or paid back to member-owners.
Farmers aren't required to pay exploitative fees or meet huge delivery quotas — in fact, during the recent pandemic, co-ops were among those best able to work with farmers faced with a collapsing supply chain. On average, co-ops give 13% of profits back to charities (whereas major grocers average 4%). Some offer grants for sustainable agriculture or community food security projects. They pay employees an average of $1 per hour more than the chains, and more staff have benefits.
Co-ops also carry between 15% and 42% local merchandise (compared to 6% at chain stores), which means an enormous amount of money recirculates in the local economy and, thanks to the "multiplier effect," ripples into other local purchases. Steinman cites a British study that found every £10 spent at an independent store carrying local foodmakers generated £25 in the local economy (versus only £14 of benefit if spent at a chain store).
I'm a member at Karma Co-op in Toronto. I was attracted to it for its low-waste options and ethical sourcing, but I've stayed because it's hella relaxing to know that someone has already researched all your food options, including investigating labour and environmental practices. I've stayed because I didn't feel weird getting out my reusable produce bags or containers, or asking if the bulk tea is Fair Trade. Just being in the store gives me a boost, makes me feel in alignment with my highest values, which is a feeling that's pretty hard to come by in the consumer marketplace these days. I don't buy all my food there, but I have staple items that I buy regularly.
Some co-ops involve volunteer labour as an membership option, and mine is one. Though it might make more sense for me to buy my way out of it, I do it because I have two hours a month to spare, I like spending time in the store, and because I want this relationship to be defined not by bottom lines, but by what we can offer each other.
If you're feeling co-op curious, there's a full directory of them in Canada and the U.S. here, and I'm happy to answer questions about my own experience. I'll give the final word to Jon Steinman: "Every grocery store, no matter the type, is an economic engine that has lasting effects on people and the planet; food co-ops are just more intentional with their impact and use their economic position to effect positive change."
TL;DR
Big chain stores have a lot of power and aren't afraid to flex: it means charging exploitative rates for shelf space in store, price fixing, privileging industrial food companies, and putting more pressure on farmers while paying them less.

Supermarkets have a massive impact on the whole food system — they've even changed the very food we eat, prioritizing their profit and convenience over food diversity, taste, or sustainable growing practices.

With their exacting produce standards, they also create a ton of food waste at the farm level, and food waste is one of our top climate crisis challenges.

To support a healthier food system, cook from more whole ingredients, buy directly from farmers through farmers' markets or CSA programs, buy from your independent grocer, or join a co-op.
---
Wins of the Week
"Cheap food is an illusion. There is no such thing as cheap food. The real cost of the food is paid somewhere. And if it isn't paid at the cash register, it's charged to the environment or to the public purse in the form of subsidies. And it's charged to your health." — Michael Pollan, Fresh
Caroline moved into a new apartment without a green bin program, but she collects food waste anyway and brings it home when she visits her parents every couple weeks. (I used to haul my office's compost across the city, which worked great except for the time I accidentally left a bucket of it in a movie theatre.)

Kendra's been using reusable silicone cupcake wrappers to separate her daughter's snacks in a reusable container — a great example of working with the reusables you have.

Lyn is gifting swim diapers to a lot of friends who are parents, because, as she says "you're already toting a wet swimsuit home, so adding a diaper to the wet bag is so simple."
If you like seeing these wins, please do share yours by hitting reply to this email, or getting in touch. Truly, it's the wind beneath my wings. Thanks as always for reading, for helping grow this community, and for doing all you do to make this blue marble better for us all.
xo
JK
---
Five Minutes for Planet is written by me, Jen Knoch, and edited by the incredible Crissy Calhoun. Photo this week by Allie on Unsplash.