Is your food a frequent flyer?
And how much does it matter?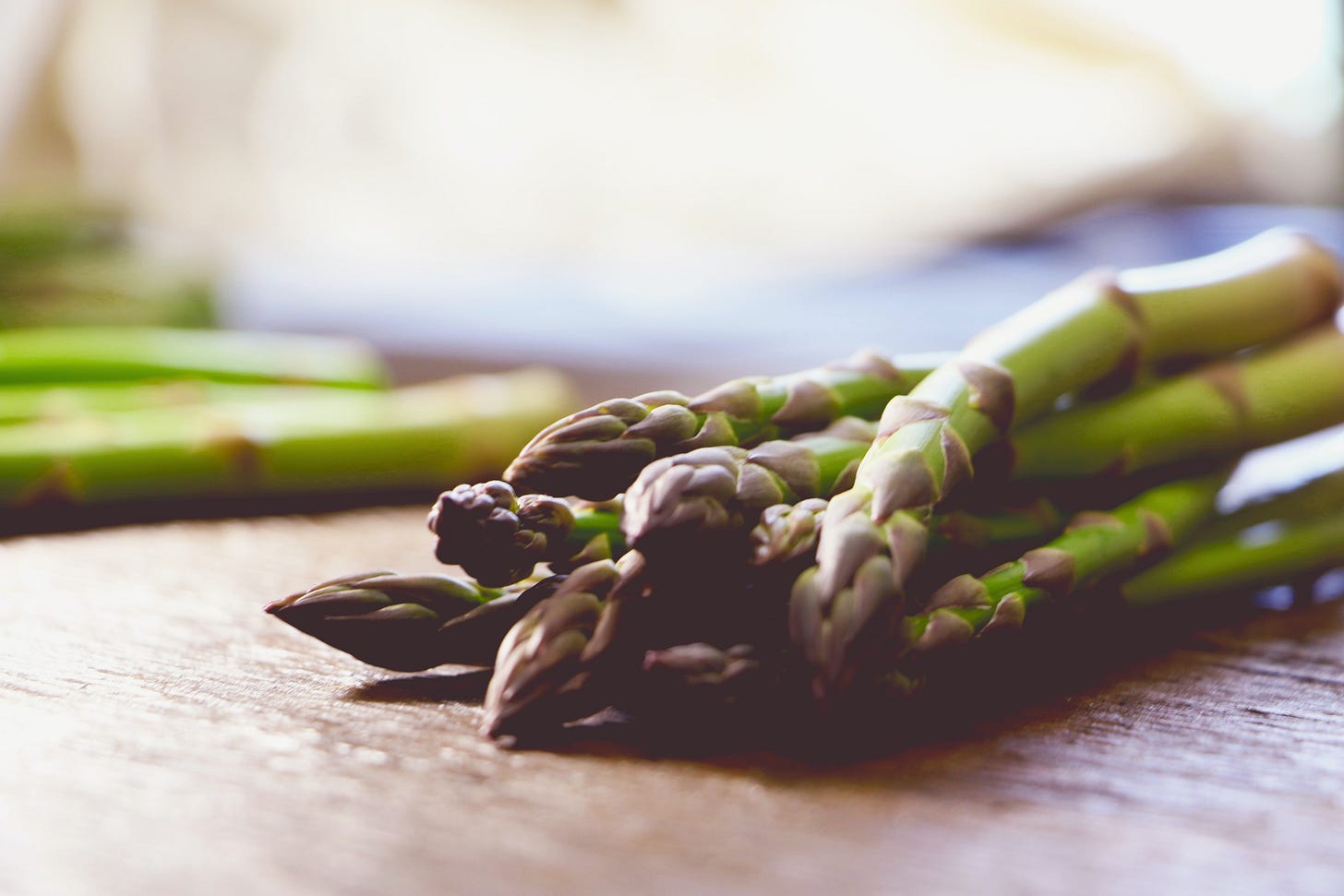 Right now, for those with the privilege to still have their income coming in, there's a message as loud and persistent as the 7:30 pots and pans: Buy local.
And for good reason. As I've said before, the local businesses that give your community jobs, character, and more tax than any chain (which of course means better roads, parks, snow clearing, etc.), generate 3.5x the wealth for the local community compared to a similar chain retailer. When it comes to something as important as food, buying local also means investing in community resilience, so that we're more adaptable and less dependent on profit-driven corporations and easily disrupted supply chains, as we're seeing right now in the industrial meat industry.
Today I'm going to zero in on food and, in particular, the carbon accounting of food. That might sound fatally boring, but I assure you it is a non-stop thrill ride! Okay, maybe not, but it'll probably surprise you and it might actually make shopping easier. If you're like me, you've stared at many an avocado or banana in the grocery store, trying to figure out how many Afterlife Points it would cost you.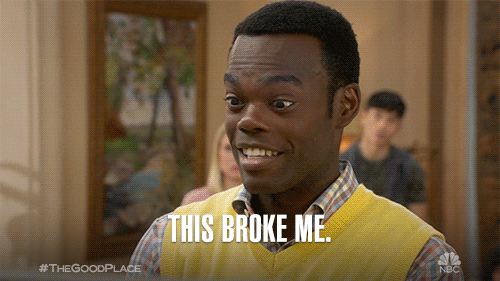 All those pears from Peru and mandarins from Morocco have got to be damning carbon-wise, right? They're definitely not ideal, and in this globalized world we've gotten far too used to having whatever food we want, whenever we want it. But let's dig into the data to sort out some food-buying priorities.
The idea of "food miles" started in the 1990s, and it's just what it sounds like: a way of calculating how far a food has travelled to get to your plate. And many of our foods do hail from afar: most of our lunches are far better travelled than we are.
But when we're looking at food miles, how something travels is far more important than how far. Almost 60% of food globally is transported by water, with another 30% coming from trucks, and almost 10% by rail. And believe it or not, importing can be the smarter climate choice in many cases. Just as we saw with flowers, greenhouse growing can be incredibly energy intensive: growing tomatoes in hothouses in Sweden is 10x more energy intensive than importing them from southern Europe; winter-grown lettuce in the U.K. uses 3 to 8 times more energy than importing it from Spain. Even long-term refrigeration can tip the scales in favour of imports.
In the end, only 0.16% our food actually takes to the skies, though when it does it releases up to 70x the carbon as the same food transported by boat. Highly perishable produce like asparagus, green beans, and berries would arrive as mouldy goo if they went on a boat, so they're some of the most frequent flyers. In fact, a kilogram of asparagus flown in from Peru has a similar carbon footprint to a kilogram of chicken or pork.
Once we set aside the jetsetting fruit and veg, though, food miles are just a tiny part of a food's footprint. Are you ready for my favourite eco chart of all time? *flourish*
Today let's look for the red part of the bar to see transport's contribution to a product's footprint: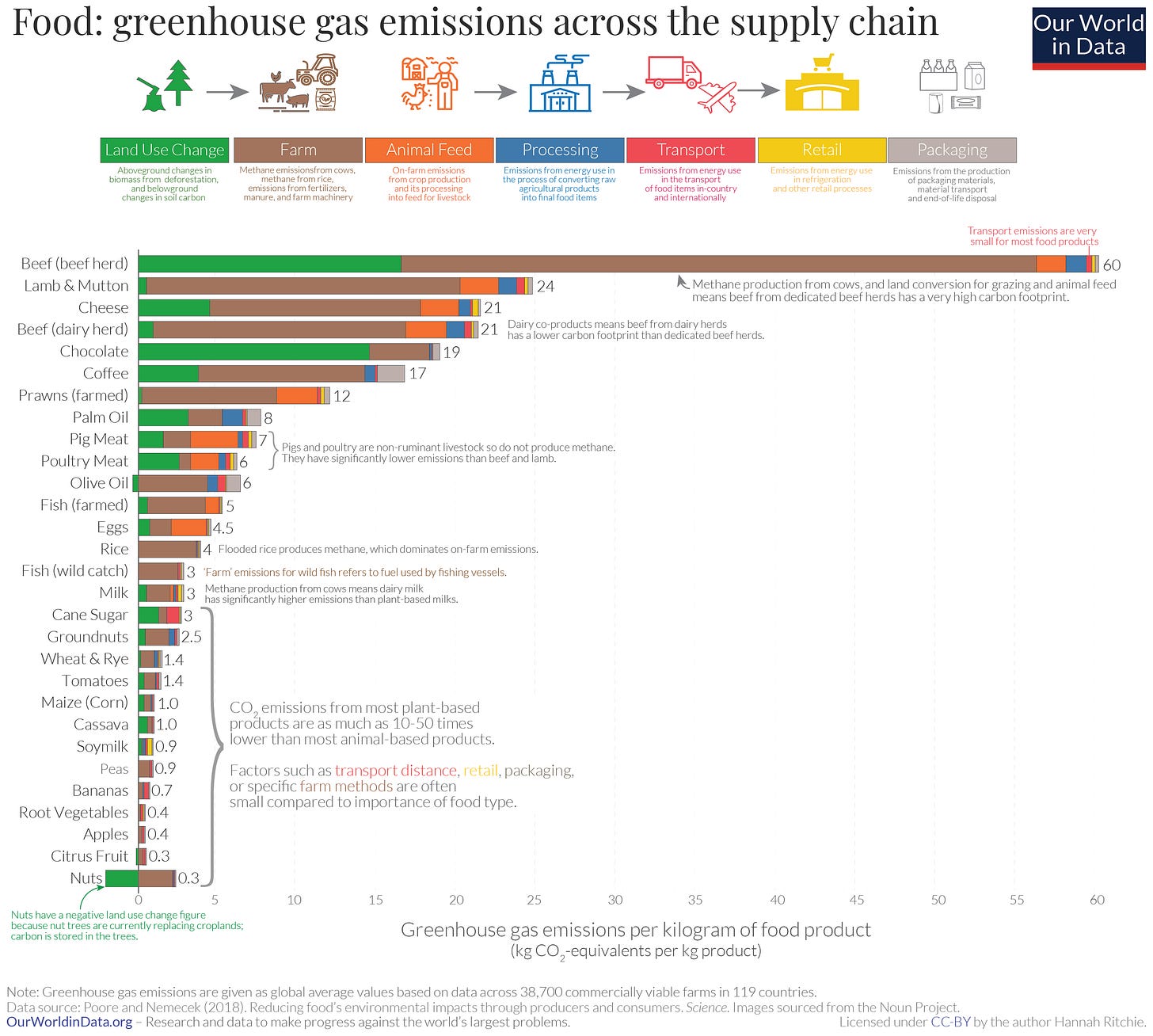 You might have noticed the red is practically absent. An afterthought at best. (Isn't it nice when something has a lower eco impact that you predicted?) There are so many things to love about this chart (check out, for instance, how nuts actually absorb carbon in a big win for permaculture!), but for now let the takeaway be that from a carbon perspective, what you eat is much more important than where it comes from.
I do want to take a moment to talk about beef, which is obviously the Big Bad of this chart, but a topic worthy of some nuance, as seasoned ag journalist and newsletter reader Alexis has reminded me. No matter how you slice it, beef is a big ticket item, but where and how it is raised can have a significant impact on its . . . er, hoofprint. And that's true of all foods, as you can see from another excellent chart out of Oxford that better shows the range in greenhouse gas emissions for various protein-packed products.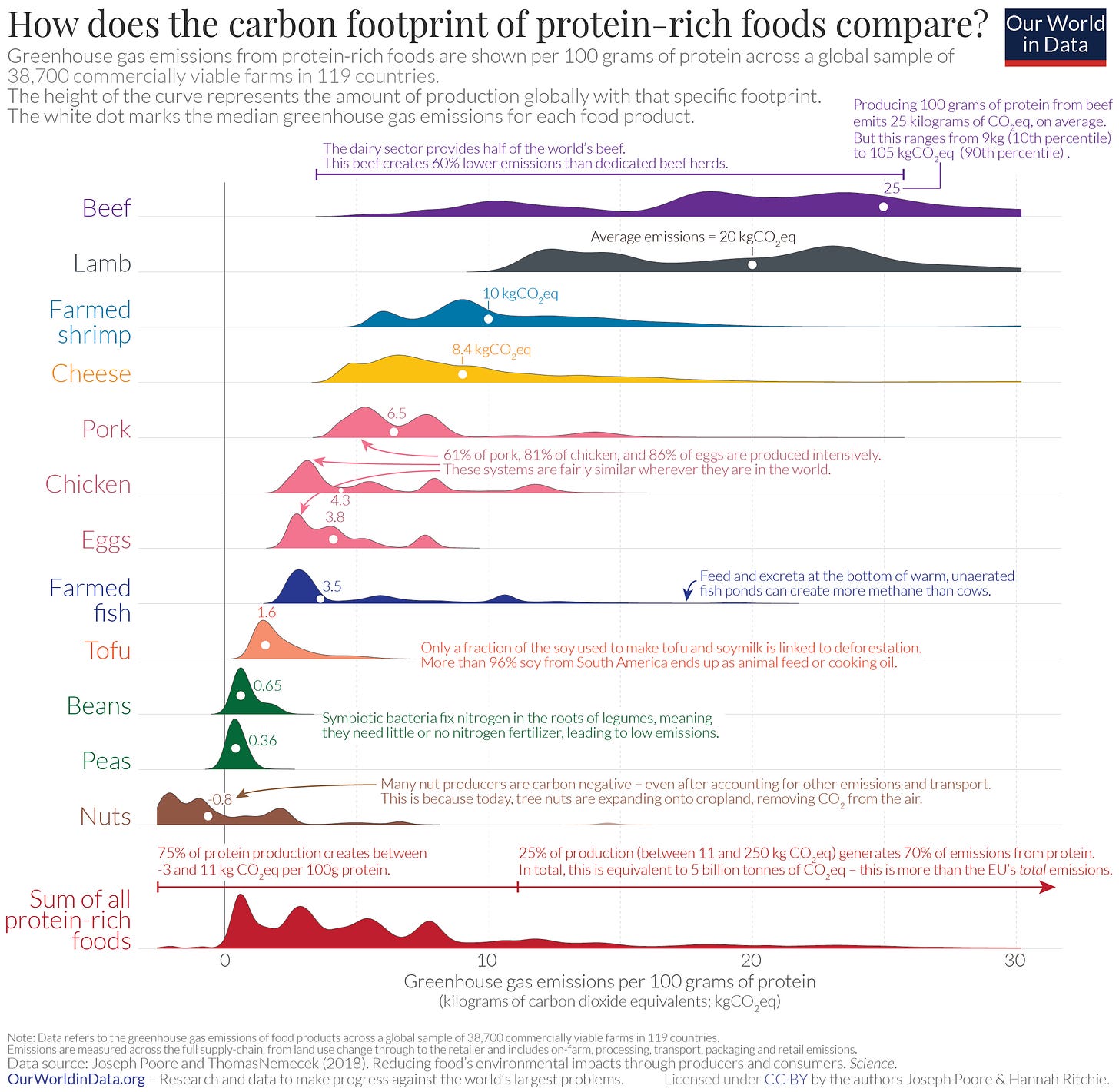 Beef raised in Brazil, for example, likely razed some rainforest, meaning its land use impact is huge. However, cows can also graze on otherwise unusable marginal land and, if managed responsibly, improve the land itself. Alexis tells me Canada's beef industry is a leader in terms of land, water, and resource use. So while you'd still be better off having some nuts or legumes, if you're set on beef, buying as local as possible, ideally from a farmer you know is sustainable, could make that less of a carbon splurge.
So taking all this into consideration: how should a person shop? It will vary person to person, and sometimes that means choosing between supporting the local economy and a lower climate impact. (You'll also have to decide between conventional and organic, which I covered a few weeks ago.) It's still not easy, and there's no perfect formula, but here are the principles I'm using to manage my food miles and carbon impact:
Eat foods in season, and buy them locally as much as possible. (To make that window last longer, try freezing, drying, canning, and other preservation methods. I've kept Ontario strawberries in my freezer for months and still have Ontario peaches on the shelf.) For the lowest impact, grow it yourself!

Out of season, avoid fragile foods like berries, asparagus, and beans. Otherwise country of origin is less important: a bell pepper from Mexico likely has a lower footprint than one that's hothouse grown.

If you're buying meat, purchase from a sustainable farmer to reduce its impact.
The best thing about this plan? It's delicious, affordable, good for the planet, and supports your local economy. And that's something I'll bang my pots and pans for any day.
---
Wins of the Week
"Hope offers us clarity that, amid the uncertainty ahead, there will be conflicts worth joining and the possibility of winning some of them. And one of the things most dangerous to this hope is the lapse into believing that everything was fine before disaster struck, and that all we need to do is return to things as they were. Ordinary life before the pandemic was already a catastrophe of desperation and exclusion for too many human beings, an environmental and climate catastrophe, an obscenity of inequality. It is too soon to know what will emerge from this emergency, but not too soon to start looking for chances to help decide it. It is, I believe, what many of us are preparing to do."
— Rebecca Solnit, "'The impossible has already happened': What coronavirus can teach us about hope"
Even amid catastrophe, you guys are still making incredible things happen, in decisions large and small. Here are a few actions that are giving me hope:
Megan grows food in her own yard but sponsored a plot in her community garden to provide access for someone in need. (Plus she's sharing seeds and seedlings to help get them started!)

Erin and her husband are building a house in the woods, and working with contractors and a forester to work around trees and replant trees and plants that have to be removed for things like water lines.

I gave away around 150 packs of vegetable and pollinator seeds from my front porch on Saturday and collected some cash donations to give to the excellent Building Roots food security program in Toronto.
Please send me more of your everyday victories! They're my favourite form of renewable energy.
That's it for this week — now go out and savour that first local asparagus of the season!
xo
Jen